Apple Sends Media Invites for WWDC Keynote on June 4
Apple today sent press invites to a variety of news and media sites for the upcoming 2018 Worldwide Developers Conference, confirming the company's plans to hold a keynote event on Monday, June 4 at 10:00 a.m. Pacific Time. MacRumors will be in attendance at the keynote.
It is tradition for Apple to hold a keynote event on the first day of the Worldwide Developers Conference to introduce new software and hardware products. This year, we expect to see new versions of iOS, macOS, tvOS, and watchOS at the conference, and it's possible Apple will also use the event to unveil new iPad Pro models and new Macs.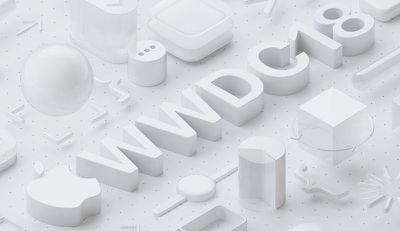 Apple is rumored to be working on an updated iPad Pro that features an iPhone X-style edge-to-edge display with no Home button and support for Face ID. It's not clear, however, if this device will be ready to debut at WWDC as rumors have said that it may not come until later in the year. Apple often introduces refreshed Macs, and the iMac, MacBook Pro, and MacBook are all awaiting 2018 refreshes.
It's also possible Apple will use the WWDC event to launch the long-awaited AirPower, a charging mat that's designed to charge iPhone X, 8 and 8 Plus models at the same time as the AirPods (with a new charging case) and the Apple Watch Series 3.
Apple in March announced that this year's Worldwide Developers Conference will once again be held at the McEnery Convention Center in San Jose, California. This is the second year that Apple has hosted the event in San Jose, a location that's closer to its two Cupertino campuses and the myriad other office buildings the company occupies in the South Bay. Past conferences were held at Moscone West in San Francisco.
WWDC tickets, which were priced at $1,599, were distributed to developers by random selection back in March. Apple also provided 350 scholarships to students and STEM organization members, which include a free ticket to WWDC as well as free lodging at San Jose State University.
Approximately 5,000 developers attend the Worldwide Developers Conference to interface with hundreds of Apple engineers who are available to answer questions and host development sessions. Developers who are not able to attend the event will be able to watch the sessions through Apple's WWDC 2018 website or the WWDC app for iPhone, iPad, and Apple TV.
For Apple's June 4 keynote event, MacRumors will provide live coverage, both here on MacRumors.com and on our MacRumorsLive Twitter account. We'll also have detailed coverage of the new software Apple debuts as well as anything else Apple announces during the week.