Apple Announces WWDC 2018 Kicks Off on June 4 in San Jose, Registration Now Open for Developers
Apple today announced that its 29th annual Worldwide Developers Conference will kick off on Monday, June 4 and will last through Friday, June 8 with the conference to be held once again at the McEnery Convention Center in San Jose, California.
Developers can register to attend starting today, and Apple says registration will be open until Thursday, March 22 at 10:00 a.m. Pacific Time. As is typical, Apple will be selecting WWDC attendees using a lottery system due to the popularity of the conference.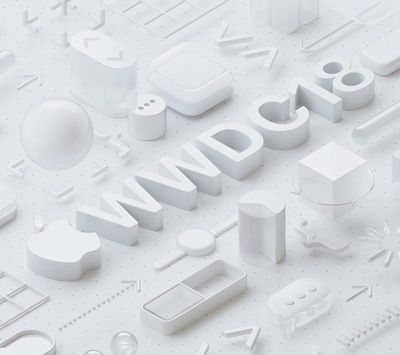 Tickets will be priced at $1,599, and only developers who win Apple's ticket lottery will be able to purchase a WWDC ticket. To enter the lottery, developers must have been a member of the Apple Developer Program or the Apple Developer Enterprise Program as of March 13, 2018 at 10:00 a.m. Pacific Time.
Developers who are chosen through the WWDC ticket lottery will be notified by March 23 at 5:00 p.m. Pacific Time. Apple also plans to make up to 350 WWDC Student Scholarships available this year for students and members of STEM organizations. Scholarships provide a free WWDC ticket, free lodging, and free one year membership to the Apple Developer Program.
Scholarship submissions will open on Monday, March 26, 2018, and students will be asked to build an interactive scene in Swift playground that can be experienced within three minutes.
Apple uses its Worldwide Developers Conference to introduce new software, to debut new hardware products, and to network with thousands of developers from all over the world. This year, Apple is expected to introduce iOS 12, macOS 10.14, tvOS 12, watchOS 5, and new software for the HomePod.
Apple will hold a keynote event on Monday, June 4, where we will get our first glimpse at new software products and perhaps some new hardware. Rumors suggest Apple could use the event to introduce new lower-cost MacBook Air models and refreshed iPad Pro models equipped with Face ID.
Last year was the first year that Apple held its Worldwide Developers Conference at the McEnery Convention Center in San Jose, California rather than at the Moscone Center in San Francisco, and it appears the new location will be used for the foreseeable future.
Apple says that developers who are not chosen to attend the conference and "Apple enthusiasts everywhere" will be able to live stream the conference through the Apple Developer website or through the dedicated WWDC app for iPhone, iPad and Apple TV.
Those who are not picked for WWDC are also able to attend alternate events throughout San Jose during the week of WWDC, such as AltConf, which was announced this morning. Tickets to AltConf, which allows developers to mingle and provides a venue for watching the keynote and other WWDC events, are free. AltConf will take place from June 4 to June 7.