Samsung Compares Galaxy S9 to Very Slow iPhone 6 in Frivolous Ad
Samsung has released a new ad encouraging iPhone users to upgrade to the Galaxy S9, but there are several holes in the video.
First and foremost, instead of comparing the two-month-old Galaxy S9 to the iPhone X, or even the iPhone 8 or iPhone 8 Plus, the one-minute clip shows a woman becoming increasingly frustrated with her seemingly glacially slow iPhone 6, released in 2014, as she travels by plane to visit her sister.
Samsung acknowledges this fact with fine print that says "newer iPhone models are currently available," but that doesn't stop it from comparing its 2018 flagship with a nearly four year old iPhone model.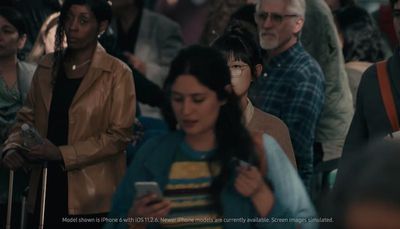 The woman's woes start at an airport security checkpoint, where a security officer reminds travelers to have their boarding passes and IDs ready. The woman taps on the Wallet app on her iPhone, but a white screen appears, suggesting the device is lagging badly. The security officer is visibly displeased.
The next scene shows the woman attempting to open the TV app to watch a movie during her flight, as the person with a Galaxy S9 is doing next to her, only for the same white screen to occur again, suggesting the iPhone is still lagging.


The ad is deceiving, however, as it never shows whether the Wallet or TV apps eventually manage to open. Instead, Samsung conveniently cuts away to the next scene after a split second each time. The fine print also says "screen images simulated," suggesting the slowness might not even be real to begin with.
Later in the night, the woman visits an Apple Store and asks if her slow iPhone can be fixed that night. In a monotonous voice, the employee advises her that she can turn off Apple's performance management, at the risk of unexpected shutdowns, without mentioning that a battery replacement may solve the problem.


Looking exhausted, the woman leaves the store and walks by a person with a notch-shaped haircut that clearly mocks the iPhone X, as seen in an earlier ad.


At the end of the ad, the woman can be seen unboxing and using a Galaxy S9, having finally upgraded to that device.
Samsung's decision to use an older iPhone in the video may have something to do with the iPhone X outperforming the Galaxy S9 in benchmark tests, but it also gave them an opportunity to mock Apple's performance management, which isn't enabled on the latest iPhone 8, iPhone 8 Plus, or iPhone X.
In reality, even a four-year-old iPhone 6 being throttled by Apple's performance management shouldn't be nearly as slow as Samsung depicts in the ad. And if it is, then there are likely underlying issues.
It's fair game for Samsung to try to convince iPhone users to switch to the Galaxy S9, but its execution in this ad was poor.