Apple.com Updated With Focus on Accessibility Features of iPhone, Mac, Apple Watch, and More
Apple today updated the front page and accessibility section of Apple.com in celebration of Global Accessibility Awareness Day. The event is held on the third Thursday of May every year and was created to promote inclusion and usability of technology for anyone with a disability.
This year, Apple is highlighting its own accessibility features right on the home page of Apple.com, stating that "Technology is most powerful when it empowers everyone." On the main accessibility page, Apple has again posted its short commercial from 2016 about real people with disabilities who use its products in everyday life, narrated by Sady Paulson, who uses Switch Control on a Mac.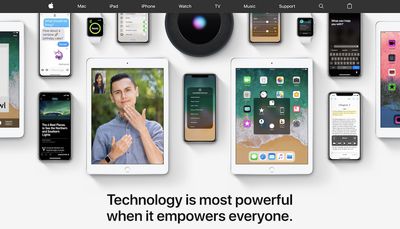 Otherwise, the company has greatly expanded the web page to mark today's event. When you scroll down, each section is marked by accessibility features focusing on different areas of disability, beginning with vision. These include VoiceOver, adjustable display accommodations, Dynamic Type to upsize text, and Zoom to get a closer look at an iPhone, iPad, Apple Watch, Mac, or Apple TV screen.
In the hearing section, Apple says it wants to "keep everyone in the conversation" with features like Live Listen that let users fine-tune MFi hearing aids to hear more clearly. The company also showcases FaceTime for those who use sign language to communicate, closed captioning for music and sound effects on all Apple devices, LED Flash for iPhone alerts, and Type to Siri for manually asking the AI assistant to perform any task.
The last two sections focus on physical and motor skills as well as learning and literacy. Here Apple talks about using HomePod to automate complex scenes with just a voice, AssistiveTouch for customized iOS gestures, Speak Screen to hear text spoken aloud on iPhone and iPad, and Safari Reader to stay focused on content and reduce visual clutter that can become a sensory overload for some users.
Earlier this week, Apple's director of global accessibility policy and initiatives, Sarah Herrlinger, discussed the company's efforts to help individuals with disabilities through its various products. In March, Apple donated $250,000 to sponsor an "Innovation Zone" in an accessibility-focused playground opening soon in Sunnyvale, California.
For last year's Global Accessibility Awareness Day, the company launched a series of "Designed for" videos on its YouTube channel, highlighted interviews conducted between CEO Tim Cook and three accessibility activists, and held a Stevie Wonder concert at One Infinite Loop.
This year, Apple says it's hosting global events that will promote inclusive design and "emphasize how technology can support all people with disabilities," including events at Apple corporate in Cupertino, Austin, Cork, and London. Throughout May all of its stores will have accessibility-related Today at Apple sessions for customers to participate in. If Apple celebrates the accessibility-focused day with other events, we'll be sure to update this post.