Apple Donates $250K to Sponsor 'Innovation Zone' in Accessibility-Focused Playground Coming to Sunnyvale
The Magical Bridge Foundation, which helps build playgrounds for children and adults with disabilities and special needs, this week announced that Apple will help fund the foundation's latest playground, located in Sunnyvale, California's Fair Oaks Park. Magical Bridge Foundation's playgrounds are located in select communities in the Bay Area, including Mountain View, Morgan Hill, Palo Alto, and Redwood City.
Apple's contribution to the playground will come in the form of a $250,000 donation and mark the company as a sponsor of an "Innovation Zone" section of the park. Magical Bridge Foundation describes this area as "a dynamic space within the Sunnyvale playground for people of all ages and abilities to meet, learn, explore, create and build new and diverse relationships."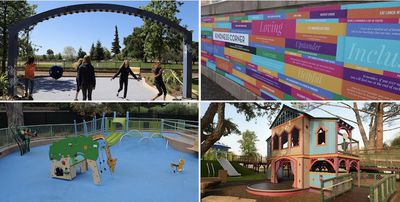 Clockwise from top left: The Innovation Zone, Kindness Corner, Playhouse + Playstage, and Tot Zone
Apple's sponsored Innovation Zone is said to lie "at the heart" of the new playground's leading edge concepts.
Capturing the innovative spirit of Silicon Valley, the Innovation Zone provides unique and interactive play experiences utilizing technology, art and design that stimulates the full array of human senses in an entirely new way.

"The dream to build magical spaces where people of all abilities can feel freedom of play has become a reality because companies like Apple and our other partners are so committed to this community, its residents and visitors," Magical Bridge co-founder Olenka Villarreal said. "The joy is contagious. Magical Bridge Playgrounds are changing neighborhoods, cities, and soon, the country through truly inclusive play."
Magical Bridge Foundation is still collecting contributions for the playground, and if it raises its goal of $3.3 million it will begin construction on the Sunnyvale location in fall 2018, with a public opening aimed for 2020. Other tech companies have also announced sponsored areas in the playground, including LinkedIn's $150,000 sponsorship of the "Kindness Corner." Other play zones, like a Tot Zone, Spin Zone, and Playhouse + Playstage, are still available for sponsorship.
Apple has long been a proponent of accessibility
within its software
and through the selling of hardware accessories in its
online
and
retail stores
. The company has annually celebrated events like
Autism Acceptance Month
and
Accessibility Awareness Day
, and in 2015 was honored as a
recipient of a Helen Keller Achievement Award
from the American Foundation for the Blind for the company's accessibility efforts, particularly VoiceOver's ability to give vision-impaired users access to iOS devices.