Intel Foundries Continue to Face Issues and Another Spectre-Like Vulnerability Disclosure May Be Looming
Despite positive first quarter results for 2018, Intel faces continuing issues with its foundries, both with the oft-delayed 10nm, as well as its own modem production in 14nm. Intel revealed in the earnings conference call that volume 10nm manufacturing had been delayed to 2019, without specifying which part of the year.
The debut of Intel's 10nm process has been a particular sore spot, with the forthcoming Whiskey Lake set to be the fifth new architecture debut in the 14nm process. Prior to 14nm, Intel had maintained a two architecture, "tick-tock" strategy for its processors, where a new foundry node denoted a small architecture update over the previous processor as a "tick," and a more significant architectural evolution as a "tock" on a matured process.
We first reported on the demise of the tick-tock strategy in 2016. Things have only grown worse for Intel since then as 10nm has faced further delays. To put this delay in perspective, Intel's original roadmaps had 10nm technology debuting in 2015. There are several reasons for the delay, but Intel CEO Brian Krzanich explained that some features in Intel's 10nm process require up to five or six multi-pattern steps, whereas other competing foundries are known for up to four steps in 10nm or 7nm processes.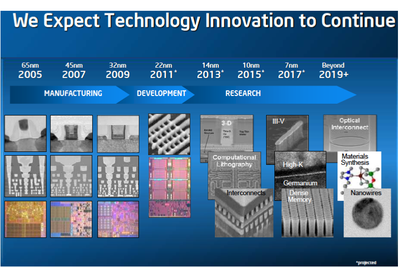 This development has consequences for Intel, its customers, and its competitors. First, Intel has lost the technology advantage it once held over the rest of the semiconductor industry. While you cannot compare the dimension in the node name directly across foundries, competitors such as TSMC, Samsung, and Global Foundries have largely reached parity with Intel's 10nm on 7nm processes, with transistor densities besting Intel's own at 10nm. Intel used the transistor density metric to combat the marketing furor that the node names created, but it seems to have lost those bragging rights as well.
More importantly, Intel's competitors are starting to enter volume manufacturing of competing 7nm nodes. While the technology leadership was only important to Intel before as an enabler for superior products, its relatively recent opening of fabs to outside customers has lost some of its luster as a result of these developments.
In the earnings call, Intel also acknowledged that it expects to cede marketshare to rival AMD, as its rival has enjoyed recent success thanks to the debut of new CPU architectures such as Zen that have begun to close the performance gap with Intel's own CPUs. AMD is expected to make significant gains in the server space thanks to recent developments, and after spinning off its own foundry into Global Foundries, has been using a mixture of the former in-house foundry and TSMC. AMD is expected to debut consumer products on the 7nm node in 2019.

The impact to Apple is fewer processor updates for its Mac product line with meager performance improvements between successive generations. Apple famously abandoned PowerPC for its stagnation and performance gap to Intel's x86 offerings, and now the situation seems poised to repeat itself with the persistent rumors that Apple could use its own processors for the Mac line of products.
Apple's iPhone and iPad products are affected as well, as the company's increasing reliance on Intel modems is held back by Intel's troubles in producing modems at volume on its own 14nm process.
Intel's modems, the product of its acquisition of Infineon, had been fabricated on TSMC's processes as had been originally designed until recently. The XMM 7560, Intel's gigabit class modem with CDMA support, will be fabricated on its own 14nm process and is widely expected to be featured in Apple's next mobile products.
Intel also has ambitions to enter the fray for RF and analog design wins, and recently disclosed details on its 22FFL process, a combination of the 22nm, 14nm, and 10nm product lines aimed at lower cost and power solutions, as well as analog and RF. However, notably absent from this disclosure is an announcement of any design wins.
Intel's RF transceivers, such as the SMARTi 7 RF transceiver that is paired with the XMM 7560 modem, would have been a prime candidate for a process such as this. The lack of such an announcement suggests it remains fabricated at a foundry with an established RF/analog process history -- most likely TSMC.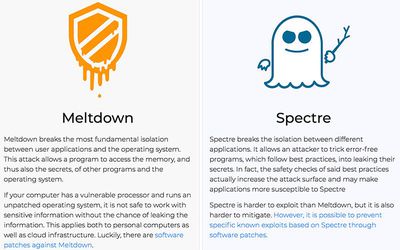 Finally, Intel may be facing another CPU vulnerability disclosure, with Anandtech reporting via c't magazine, that more vulnerabilities are currently being researched in the security community, and Intel has issued its own statement on data security seemingly in anticipation of this disclosure. The magnitude of the exploits appears to be on the scale of the original Spectre and Meltdown vulnerabilities, and Intel is already preparing patches for the newly identified exploits, according to c't.
These vulnerabilities are expected to affect ARM and AMD as well, as at least one of the original Spectre and Meltdown exploits did, but Intel arguably faces the most scrutiny given its high profile position of market leadership.