Apple to Shut Down Texture App for Windows Following Acquisition
Following its acquisition by Apple, Texture this week announced plans to shutter its Texture magazine subscription app for Windows users at the end of June.
As noted by The Verge, Texture recently sent out emails to its users letting them know that the Windows service will be discontinued on June 30th, and the company also added a notice to its website.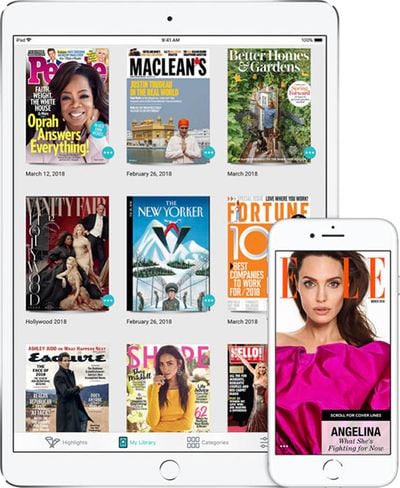 Texture says the Windows app, which has not been updated in some time, is being shut down to "keep things working smoothly." The discontinuation of the app may have been on the horizon regardless of the acquisition by Apple based on its infrequent updates and poor reviews.
Texture is an all-access pass to the world's best magazines. To keep things working smoothly, older versions of the app sometimes need to be retired. After June 30th, 2018, the Texture Windows app will no longer be available. Your Texture subscription will continue to be available on compatible phones or tablets running iOS or Android and on Fire HD tablets along with ongoing access to all the magazines you have selected as your favorites.
Windows users who are losing access to Texture through the Windows platform will be able to continue to access Texture using smartphones and tablets running iOS or Android, but there will no longer be a way to read Texture magazines on a Windows PC.
Apple first announced plans to acquire Texture in mid-March. At the time, Apple iTunes chief Eddy Cue said Apple was "committed to quality journalism from trusted sources and allowing magazines to keep producing beautifully designed and engaging stories for users."
For those unfamiliar with the service, Texture offers subscribers unlimited access to more than 200 digital magazines for $9.99 per month. Available titles include major magazines like Cosmopolitan, People, Better Homes and Gardens, Time, Bloomberg Businessweek, Forbes, Condé Nast Traveler, Allure, Billboard, Town & Country, ELLE, Good Housekeeping, National Geographic, Rolling Stone, Vogue, and more.
Rumors have suggested Apple plans to use its Texture acquisition to launch an upgraded Apple News app with a subscription-based news service that would include Texture's magazine subscription options.
The news subscription option, which would be similar to Apple Music but for news and magazines, would provide a boost to Apple's growing services category.