Apple News Inking Deals With Publishers for Exclusive Video Content
Apple has begun inking deals with publishers in Apple News to gain timed exclusive video series on the platform, as it competes with news distribution outlets on Facebook, Google, and Twitter. In a new article today, Digiday highlights BuzzFeed News as one of the first major partnerships for the video initiative on Apple News, with the debut of docu-series "Future History: 1968" last month.
Under the partnership, BuzzFeed News launched the first three episodes of Future History: 1968 exclusively on Apple News, and then one week later expanded them to Facebook Watch, YouTube, Twitter, and the BuzzFeed app. BuzzFeed head of audience development Roxanne Emadi says Apple paid the publisher for first-window rights to the show's first three episodes and cut BuzzFeed a share of ad revenue.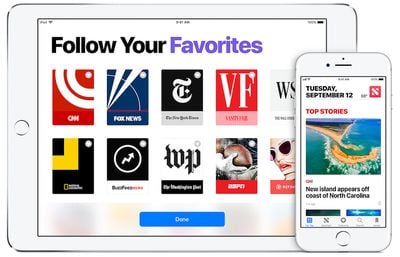 Apple has become so serious about competing with Facebook, Google/YouTube and Twitter as a distribution outlet for news publishers that it's paying publishers to unveil shows on Apple News first.

"We're focused on really just in-depth, unique video experiences and finding partners to support that," Emadi said. "It's very different than what you're used to, which is social video and news feed video."
After its launch on April 21, Future History: 1968 was featured in video galleries for an entire weekend on Apple News and got included in push notifications of users that follow the publisher in the app. According to Emadi, during the first week of the show's availability on Apple News it received "several hundreds of thousands" of views across the three episodes. On April 28 the show launched on YouTube, Facebook Watch, and Twitter, amassing over 110,000 views across all three since then.
The show focuses on major events that happened in 1968, including the assassination of Martin Luther King Jr. and the space race, but the depictions of each event are filtered through a modern lens. For example, conversations between King and his wife are shown visually as a text message thread. The episodes are mostly formatted in a vertical orientation to fit on iPhone screens without having to transition into landscape mode, and the shortest one runs at just over eight minutes.
Apple has been working on beefing up Apple News recently, with a report last month suggesting that the company will introduce a subscription-based plan into Apple News within the next year. The company has also been pushing for higher-quality and lengthier video series on the platform, although publishers are said to remain hesitant as the app "hasn't delivered on the revenue front."
Limited revenue and hassles with placing ads alongside content are some of the reasons that publishers are reluctant to adopt Apple News. This could change, as Apple reportedly plans to allow publishers to use the ad tech they already employ on their sites, such as Google's DoubleClick for Publishers, to deliver third-party ads in the Apple News app. For publishers embracing the app, they have noted that Apple News can yield a flood of traffic to articles, with Vox.com stating in February that Apple News accounted for as much as 60 percent of traffic for some stories.