Apple News Drives Significant Traffic to Stories, Publishers Can Pitch Articles via Slack
Apple News can yield a flood of traffic for news publishers, with the app accounting for as much as 50 to 60 percent of readership for some stories, according to a paywalled report by Tom Dotan for The Information.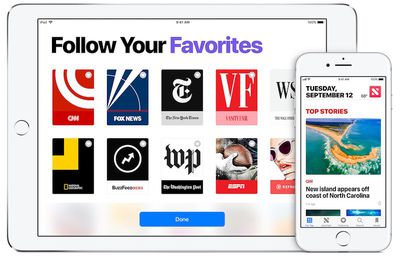 Apple News has generated half of Vox.com's daily traffic at times, according to a person familiar with Vox's numbers. An executive at the website of a major TV network said Apple News has accounted for as much as 60% of traffic for some stories.
The report claims Apple has an editorial team of about a dozen former journalists, led by veteran Apple executive Roger Rosner, who decide which articles get featured in the Top Stories or Spotlight sections of Apple News, or in the News tab on an iPhone, accessible by swiping left from the first page of the home screen.
The editorial team in the United States runs a dedicated Slack channel in which publishers can pitch stories to Apple, which tends to favor big breaking stories, special features, and multi-part series, according to the report. Apple is said to have similar teams working with publishers in Australia and the United Kingdom.
The curation process isn't praised by all publishers, as smaller to medium-sized sites say Apple News tends to favor big mainstream outlets, which get featured prominently when users first sign up for Apple News.
A bigger issue that publishers have with Apple News is that many don't earn any significant ad revenue from the app.
Part of the problem relates to how it sells ad space next to stories. Apple initially used its ad team iAd, but it later outsourced sales to NBC. It has yet to integrate Google's industry standard ad-serving tool DoubleClick, which publishing executive say would make ad sales much easier.
This may change soon, as Apple has supposedly begun to run a closed test of Google's industry standard ad-serving tool DoubleClick with around 20 publishers, in line with a report from last July. However, it's unclear when or if Apple News will roll it out wider, according to the report.
All in all, while Apple News has proved more successful than first expected, there is still some progress to be made as Apple aims to become a key distribution outlet for news publishers around the world.