Apple CEO Tim Cook on Tuesday said AirPods continue to be "incredibly popular" and a "runaway hit" for the company.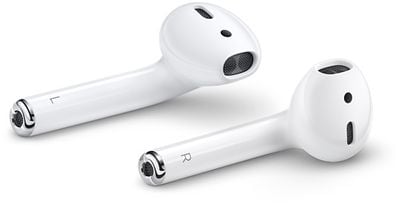 "AirPods are incredibly popular and we're seeing them in more and more places—in the gym, in coffee shops, wherever people are enjoying music on their Apple devices," said Cook, following Apple's earnings report. "This product is a runaway hit, and we're working hard to meet the incredible demand."
Apple does not disclose AirPod sales, and instead groups the wireless earphones into its broad "Other Products" category in earnings results, but there are at least a few reasons to believe they're very popular indeed.
For starters, Apple reported $3.9 billion revenue from its "Other Products" category in the March quarter, an impressive 38 percent increase over the year-ago quarter. Apple said its wearable and home products like the AirPods, Apple Watch, Apple TV, and HomePod accounted for over 90 percent of that growth.
Second, Apple said unit sales of both AirPods and the Apple Watch reached a new all-time high for the March quarter, without revealing specifics.
Third, since launching in December 2016, AirPods have rarely been in stock on Apple's online store. Orders placed today still face a one-week delivery estimate, suggesting Apple can't keep up with strong demand, may be experiencing mass production challenges, or some combination of those two factors.
Barclays analysts recently forecasted that AirPods shipments may approach 30 million units in 2018, while former KGI Securities analyst Ming-Chi Kuo estimated 26-28 million shipments on the year.
Looking ahead, Apple plans to release a wireless charging case for AirPods to be used with its AirPower charging mat, slated for release in 2018. Beyond that, Mark Gurman reported that Apple may release new AirPods with "Hey Siri" functionality as early as this year, and a water-resistant pair as early as next year.
AirPods are available for $159 on Apple's online store. Limited supplies are also available at select Apple retail stores.