Apple's "Other Products" category, which includes AirPods, Apple TV, Apple Watch, HomePod, Beats products, iPod touch, and other Apple-branded and third-party accessories brought in nearly $4 billion in revenue, up an impressive 38 percent compared to the year-ago quarter that brought in $2.9 billion in revenue.
According to Apple CEO Tim Cook, the Apple Watch, one of the most lucrative products in the "Other" category, saw strong revenue growth "in the double digits" year-over-year, setting a March quarter revenue record. Apple does not break down "Other" product sales, so specific numbers on Apple Watch sales are unavailable.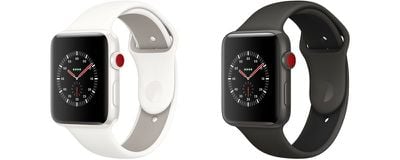 Cook described AirPods, another popular "Other" product as a "runaway hit" that the company is still working to keep in stock.
Wearables saw a combined revenue increase of almost 50 percent year over year, which includes AirPods, Beats, and Apple Watch. Cook said that Apple's wearables business is now the size of a Fortune 300 company.
Cook didn't have much to say about the HomePod, which is also in the "Other" category, but he said that he believes it is a "breakthrough" speaker that will change the way we listen to music.
Apple is "looking forward" to adding new features to the HomePod and introducing it to more markets soon, but he gave no timeline for these updates.