Unauthorized iPhone 8, 8 Plus and X Display Replacements Can Break Ambient Light Sensor
iPhone 8, iPhone 8 Plus, and iPhone X models that have been repaired with a new display by an unauthorized third-party repair outlet are affected by a problem where the fix seems to disable the device's ability to adjust brightness automatically, according to report from Engadget and Motherboard.
The issue appears to impact replacement displays installed by non-Apple certified repair shops even when using genuine Apple parts, and it seems to be related to the functionality of the ambient light sensor. It is not a problem that affects display components replaced by Apple or an Apple Authorized Service Provider.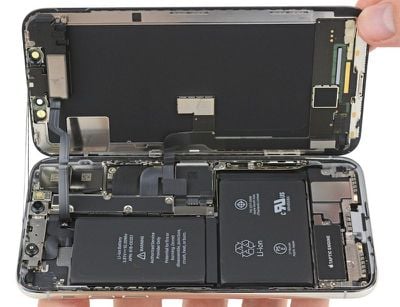 According to Engadget, the aftermarket repair community has confirmed the issue in multiple countries and in several versions of iOS, including iOS 11.1, iOS 11.2, and iOS 11.3. Engadget also experienced the bug first hand after swapping the displays of two new iPhones, which disabled the ambient light sensor of the devices.
I was able to confirm that even swapping the displays of two brand-new iPhones causes the ambient light sensor to stop working, despite it not being altered or touched in any way. Experiments have shown that the sensor is disabled by iOS during the boot process.
It is not known if the disabling of the ambient light sensor after a display replacement is a feature or a bug, because there is precedent for iPhone features to be disabled following unauthorized repairs. As an example, after Touch ID was introduced, users who had their Home buttons and Touch ID sensors repaired by non-Apple technicians saw Touch ID disabled.
This was known as the "Error 53" issue, and Apple at the time confirmed that it was intentionally disabling Touch ID following unauthorized third-party repairs using non-original components because of security and validation issues. Error 53 initially bricked iPhones, which Apple said was in error and fixed, but to this day an unauthorized Touch ID repair will disable the Touch ID sensor on an affected device.
Repair outlets that spoke to Engadget suspect that Apple may be using the ambient light sensor as a "test-case" to control the repair process and "link hardware with logic boards so if [an iPhone is] repaired outside of the Apple network it loses functionality," but this has not been confirmed.
"We try to offer a cheap alternative [to Apple], and we only use genuine parts. I'm worried that customers are going to come back to me and demand that I fix it. What can I do if Apple is the one disabling the sensor?" Another source said that they repaired between 20 and 50 iPhone 8 screens per month.
Apple has not yet commented on the ambient light sensor issue affecting iPhone 8, iPhone 8 Plus, and iPhone X models repaired by non-Apple service providers, and there is also a separate but unrelated bug that appears to be impacting some iPhone 8 displays.
As discovered yesterday by Motherboard, some iPhone 8 and 8 Plus models that have had aftermarket display replacements are experiencing issues following the release of iOS 11.3, which appears to have disabled touch functionality in the repaired devices.
One repair shop told Motherboard that the issue has caused "over 2,000 reshipments." "Customers are annoyed and it seems like Apple is doing this to prevent customers from doing 3rd party repair," said the shop owner.
The iOS 11.3 bug seems to be related to a small microchip in the display, which disables touch functionality following the update. Repair shops have discovered a fix, but each affected iPhone must be re-opened so the chip can be upgraded, which is a hassle. Motherboard also learned that it's "an absolute nightmare" for unauthorized shops to repair iPhone X components, with the front camera and Face ID components unable to be repaired by aftermarket shops entirely.
For end users who don't want to hassle with non-functional iPhone components, Apple's message is clear: visit an Apple retail store or an Apple Authorized Service Provider to avoid serious issues. For devices out of warranty, authorized repairs can be prohibitively expensive, however, which leaves customers with limited options.
These reports of repair issues come as Apple works to fight "Right to Repair" legislation in multiple states, which would potentially require smartphone manufacturers to provide repair information, replacement parts, and diagnostic tools to both product owners and independent repair shops.