Apple this week updated its Apple Music Android app with the revamped music videos section that launched on iOS and macOS devices late last week.
Announced earlier in 2018, Apple Music's new music videos section provides access to a wider variety of both classic and brand-new videos, exclusive videos from artists like Kylie Minogue, and full video playlists that let subscribers stream music videos back-to-back without ads. Similar to the non-video section, there are curated playlists for topics like The Beats 1 Video List and Today's Video Hits, but users can also create their own custom playlists of music videos.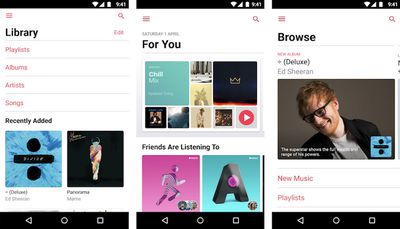 WHAT'S NEW: Apple Music now includes a new music video experience. Find what's new and popular in Music Videos within Browse, and play videos back-to-back with exclusive music video playlists.
The new Android update comes about a month after the last one, which also focused on music videos. Instead of major changes, the March version update introduced the ability for users to watch music videos in fullscreen or inside Now Playing, so that the music continued playing while browsing other parts of the app. About a year ago, Apple introduced major design changes to the Android app that more closely resembled the look of the Music app on iOS devices.
Apple Music for Android can be downloaded from the Google Play store for free.