When Apple launched the iMac Pro last December, virtual reality applications and content creation were headlining features for the high-end computer. Prior to that, the company focused on Metal 2 and VR-based content as major additions to macOS High Sierra during WWDC 2017, also announcing multiple game studios putting their support behind Mac-based VR experiences, like Valve and Epic using the HTC Vive headset.
Today, another VR studio backing Apple's efforts in this space has become the focus of a new report by Ars Technica. The studio, called "Survios," was approached by Apple to port its new software "Electronauts" to macOS, part of many VR apps aimed at showcasing the iMac Pro's top-of-the-line capabilities.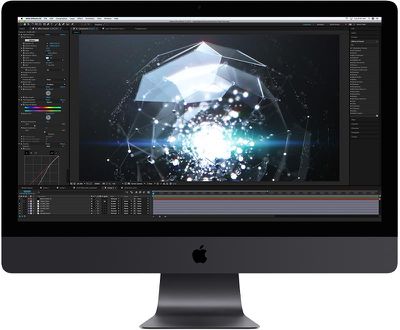 In the new interview, Survios studio head Mike McTyre and software engineer Jason Meisel discussed the "nearly painless" porting process, what working with Apple was like, and the important distinction between Apple's focus on AR vs VR.
According to Meisel, Apple focused on ease of portability and ensured that early VR Mac developers wouldn't hit roadblocks during the porting process. Right now on Mac, VR experiences are supported using an optimized version of Valve's SteamVR platform and Survios developed Electronauts in the Unity game engine, which "can build directly to a multitude of platforms" spanning macOS and Windows.

"Essentially, what they've done really well is that they've been working with Unity and with Valve to make that whole process of porting a game that already exists using Unity and just get it running on the iMac," Meisel added.
Speaking on the topic of the small install base of an iMac Pro-only VR title, McTyre said that the studio noticed "a lot of passion" from Apple, and it's clear that the Cupertino company is planning "a lot more growth" in VR moving forward.

We're seeing a lot of resources on their end, a lot of effort, a lot of passion. They want to focus on this and work on this. So that might be true now, but that's just the starting point. It starts here, and let's see what they add on to that next... I truly believe that they're going to put a lot more growth into that going forward beyond this. This is just a starting point.
To expand the support of VR on Mac computers, McTyre said that in a few years he hopes to see Macs launch with integrated GPUs that sport minimum spec requirements for VR. Right now, even the iMac Pro development kit includes an external GPU enclosure, and support for eGPUs will launch wide in macOS High Sierra 10.13.4. McTyre hopes this is just a stopgap solution for graphics-heavy apps like VR: "I do think we are not that far off from the built-in GPUs just being good enough to just, out of the box, play VR."

Photo of the Survios offices in Culver City, California by Samuel Axon via Ars Technica
McTyre also touched upon the difference between virtual reality and augmented reality, the latter of which has been more of a focus for Apple in recent years thanks to ARKit in iOS. Apple has been tied to potential future products that
could use either AR or VR
, but Survios is specifically focused on VR and McTyre said AR is just "not as far along yet as VR."
The concept that AR is a version of VR but better, in my mind, is not true. It's a different experience. Televisions did not make movies obsolete. Movies did not make books obsolete. Mobile gaming did not making console gaming obsolete, and console gaming did not make PC gaming obsolete. It's all nonsense. We've been through this a million times over the last century. It's a new medium, and AR and VR are different. Is there overlap, just like TV and movies have overlap? But they're not the same thing.
For more details on Apple's relationship with VR developers, be sure to visit Ars Technica and read the full interview with Survios.