Intel's 8th-Gen Xeon and Core Processors Feature Redesigned Hardware to Address Spectre and Meltdown Vulnerabilities
Intel CEO Brian Krzanich today announced that its next-generation Xeon Scalable (Cascade Lake) processors and its 8th-generation Intel Core processors will feature redesigned components to protect against the Spectre and Meltdown vulnerabilities that affect all modern processors.
Spectre variant 1 of the vulnerabilities will continue to be addressed in software, while Intel is implementing hardware-based design changes to offer future protection against Spectre variant 2 and Meltdown variant 3.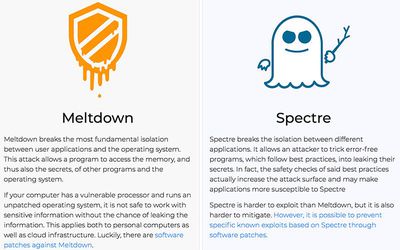 We have redesigned parts of the processor to introduce new levels of protection through partitioning that will protect against both Variants 2 and 3. Think of this partitioning as additional "protective walls" between applications and user privilege levels to create an obstacle for bad actors.
Intel's new Xeon Scalable processors and its 8th-generation Intel Core processors are expected to start shipping out to manufacturers in the second half of 2018.
Ahead of the hardware changes, Intel says that software-based microcode updates have now been issued for 100 percent of Intel products launched in the past five years, and all customers should make sure to continue to keep their systems up-to-date with software updates.
Krzanich also reaffirmed
Intel's commitment
to customer-first urgency, transparent and timely communications, and ongoing security reassurance.
Apple began addressing the Meltdown and Spectre vulnerabilities back in early January with the release of iOS 11.2, macOS 10.13.2, and tvOS 11.2, which introduced mitigations for Meltdown. Subsequent iOS 11.2.2 and macOS High Sierra 10.13.2 Supplemental updates introduced mitigations for Spectre, as did patches for both macOS Sierra and OS X El Capitan in older machines.
Apple's software mitigations for the vulnerabilities have not resulted in any significant measurable decline in performance.