Video Comparison: Samsung Galaxy S9 vs. iPhone X
Pre-orders for the Samsung Galaxy S9 started last week, and the first S9 orders are set to arrive to customers on March 14. We managed to get our hands on a new Galaxy S9 ahead of the device's launch date, so we thought we'd compare Samsung's new flagship device to Apple's latest flagship device, the iPhone X.
Design wise, the Galaxy S9 looks a lot like the Galaxy S8, with slim bezels at the top, sides, and bottom and a display that curves downward at the sides. It's taller and slimmer than the iPhone X, and with Samsung continuing to use a thicker top bezel, there's no notch. The Galaxy S9 has a 2960 x 1440 display, which
DisplayMate says is better
than the iPhone X's display.
With the Galaxy S9, Samsung uses multiple biometric methods, so there's a fingerprint sensor that's been relocated to the middle of the device's back underneath the rear camera, making it easier to reach. The iPhone X, of course, has fully embraced facial recognition, something Samsung hasn't been able to do because it's using an inferior 2D facial and iris recognition system that's not secure enough on its own.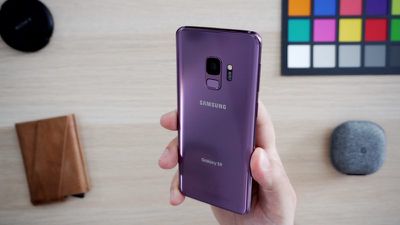 A fingerprint sensor is, of course, an attractive offering for those who prefer fingerprint sensors to facial recognition, and offering multiple biometric methods provides consumers with choice. The Galaxy S9 also continues to offer a headphone jack, which Apple abandoned with the iPhone 7.
Samsung's Galaxy S9 is using variable aperture camera technology (with two cameras if you have an S9+), and it's putting out photos on par with the iPhone X (if not better), and to combat Animoji, Samsung has its own new AR Emoji, which are more realistic humanoid animated emojis that some have called creepy. We'll be looking into both AR Emoji and the Galaxy S9 and S9+ cameras in later videos, so make sure to visit MacRumors next week to check those features out in detail.


The Galaxy S9 runs Android 8.0 Oreo, with useful features like native multitasking and edge panel customization. Android is appealing to many because it's more customizable than iOS, but it can't match features like iMessage and Continuity, and these key differences are what draw people to the different operating systems and drive customer loyalty.


When it comes to performance, Samsung's Galaxy S9 doesn't quite measure up to the iPhone X in terms of benchmarks, but in day to day usage, the difference isn't noticeable. Both devices are responsive, fast, and offer the kind of performance you expect in an expensive flagship smartphone. It's worth noting, though, that Galaxy S9 pricing starts at $720 in the US, while pricing on the Galaxy S9+ starts at $840. That's a solid $280 to $160 price difference compared to the $999 price tag of the iPhone X, and lower price is often an edge that Android devices have over iOS devices.
With Samsung and Apple devices, deciding which one is "better" is often a matter of choosing your preferred features and your preferred operating system. Both of these smartphones are fast, modern, and highly capable devices and each one has its upsides and downsides.


We'll be further exploring similarities and differences between Samsung's new flagship smartphones and the iPhone X next week, but let us know what you think of the new Galaxy S9 in the comments below.