Android Continues to Have More Loyal Customers Than iOS
Android customers continue to be loyal to the Android operating system than iOS users are to the iOS operating system, according to new data shared today by Consumer Intelligence Research Partners.
Android saw a 91 percent loyalty rate in 2017, compared to 86 percent for iOS, with loyalty rates for the two operating systems remaining largely steady since early 2016. Android loyalty has hovered at 89 to 91 percent since January 2016, while iOS loyalty has been between 85 and 88 percent.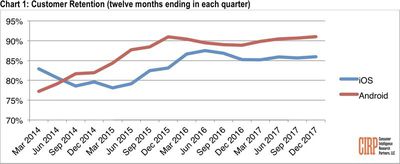 Operating system loyalty for the year was measured by the percentage of customers that remained with each operating system when activating a new phone over the twelve months ending in December 2017. CIRP says its findings are based on quarterly surveys with a sample of 500 subjects each.
"Loyalty for both Android and iOS increased in 2015 and into 2016, when it leveled off for both operating systems," said Mike Levin, Partner and Co-Founder of CIRP. "Loyalty is also as high as we've ever seen, really from 85-90% at any given point. With only two mobile operating systems at this point, it appears users now pick one, learn it, invest in apps and storage, and stick with it. Now, Apple and Google need to figure out how to sell products and services to these loyal customer bases."
With the Android operating system, customers have access to a range of different smartphones that are all able to run Android, which may explain why it has a higher loyalty rate. Android devices are also typically more affordable than iOS devices, with a wider range of low-priced options available.
As CIRP points out, with fewer and fewer first-time smartphone buyers available, poaching customers from competing operating systems is becoming increasingly important. Apple regularly aims to lure Android users to iOS through trade-in options, videos, a Move to iOS app to make transitioning simple, and a "Switch" website dedicated to explaining all of the reasons why the iPhone is better than competing smartphones.
"We know Android has a larger base of users than iOS, and because of that larger base, the absolute number of users that switch to iOS from Android is as large or larger than the absolute number of users that switch to Android from iOS. Looking at absolute number of users in this way tends to support claims that iOS gains more former Android users, than Android does former iOS users."
These loyalty rates are not equivalent to switcher rates, where iOS wins out. With a larger Android customer base, more customers are switching over to iOS devices on a regular basis. During earnings calls, Apple CEO Tim Cook always touts the high number of Android switchers Apple sees, with each quarter setting a new record.