Galaxy S9+ Tops iPhone X as Best Smartphone Camera Ever in DxO's Controversial Rankings
DxO today said Samsung's new Galaxy S9 Plus has the best smartphone camera it has ever tested. The device earned the highest-ever DxOMark score of 99, topping both the Google Pixel 2 and iPhone X, which scored 98 and 97 respectively.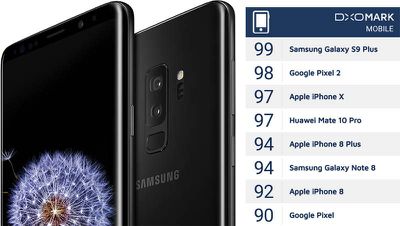 In its review, DxO said the Galaxy S9 Plus camera lacks any "obvious weaknesses" and "performs very well across all photo and video test categories," which will make it a compelling choice for photography-minded smartphone users.
The Samsung Galaxy S9 Plus is a smartphone without any real weaknesses in the camera department. In both still and video modes, it performs well across the board, delivering consistently good photo and video image quality in all light and shooting situations, thus earning itself our highest DxOMark Mobile score to date. Add one of the best smartphone zooms and a capable bokeh simulation mode to the mix, and the Galaxy S9 Plus is difficult to ignore for any photo-minded smartphone user. With the Galaxy S9 Plus, Samsung is setting the pace for 2018. We'll see if the competition can follow suit.
While the Galaxy S9 Plus has a 12-megapixel dual-lens rear camera like the iPhone X, a key new feature is variable aperture, which means the lenses can adapt to various lighting conditions just as the human eye would, and automatically let in more light when it's dark and less when it's too bright.
In dim conditions, the rear camera uses a very fast f/1.5 aperture to maximize light capture, according to DxO. In brighter light, it switches to a slower f/2.4 aperture for optimized detail and sharpness.
DxO found the Galaxy S9 Plus produces "excellent results" in bright light and sunny conditions, with vivid colors, good exposures, and a very wide dynamic range. The autofocus wasn't the very fastest DxO has ever tested, but they said it's more than fast enough not to be an issue for any user.

Galaxy S9+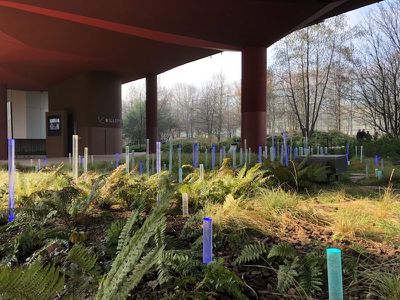 iPhone X
While the review crowned the Galaxy S9 Plus as an "excellent bright-light performer," DxO still experienced some "fairly minor issues" in those conditions. Some of its photos had "purple fringing on high-contrast edges" and "pretty noticeable" ringing halos, while others had "slight blue or pink color casts."
DxO said the Galaxy S9 Plus's performance in dimmer conditions is "equally impressive," yielding photos with "nice exposures with vivid color, accurate white balance, low noise, and good texture in low-light conditions."
The rear camera earned top marks in several other areas, including autofocus, zoom, flash, and bokeh, exposure, contrast, and color accuracy, so be sure to read the full-length review for more detailed analysis.
To determine scoring in its smartphone camera reviews, DxOMark said its engineers capture and evaluate over 1,500 test images and more than two hours of video, both in controlled lab environments and in natural indoor and outdoor scenes, using the camera's default settings. This article explains more about the methodology.
DxO's smartphone camera reviews are well known, but they've also attracted some criticism, since the overall quality of a camera is subjective. When comparing dynamic range on the Galaxy S9 Plus, Google Pixel 2, and iPhone X, for example, DxO itself said the results are "pretty much a question of personal preference."
For those interested, here is DxO's review of the iPhone X camera. But reviews from professional photographers like Austin Mann may be more valuable. Together, they provide good technical and real-world insight.
Galaxy S9 and Galaxy S9+ can be pre-ordered starting today for $720 and $840 respectively. The smartphones launch March 16.