Apple Earns Top Spot as 'Most Intimate Brand' for Millennials
MBLM this week published part of its Brand Intimacy 2018 Report, with the preliminary findings focusing on responses from millennials and other young age groups. MBLM surveyed 6,000 consumers and performed 54,000 brand evaluations across 15 total industries in the United States, Mexico, and the United Arab Emirates in order to discover which brands had the deepest emotional connections with respondents.
For millennials (typically individuals in their early twenties to late thirties as of 2018), Apple earned the top spot as the most intimate brand in the U.S. In second place was Disney, followed by YouTube, Target, and Amazon. The top four spots last year for millennials were Disney in first, followed by Amazon, Netflix, and then Apple, so the company has climbed and beaten out a few well-known brands this year.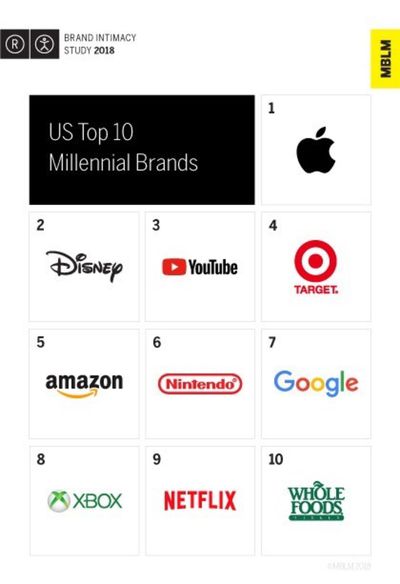 MBLM said it was "surprised and pleased" to see YouTube climbing the rankings this year.
"We were surprised and pleased to see YouTube as an addition to the top three most intimate brands for millennials this year," stated Mario Natarelli, managing partner, MBLM. "We believe its rise is due to our culture's continued need for escape and the brand's immediate, diverse content, personalities and growing offerings in movies and live TV. YouTube is clearly an established ritual in the lives of many millennials today."
A younger age group of individuals between 18 and 24 years old kept Apple as their most intimate brand, but listed Amazon in second, then YouTube, PlayStation, Starbucks, Nintendo, Google, Netflix, Coca Cola, and Walmart.
This is just a snapshot of the larger Brand Intimacy 2018 Report, which MBLM said it will be sharing next week, on March 13. Since Apple has earned the top spot in two important age groups, it's expected for the company to sit at number one for the overall rankings. For the 2017 list, Apple was MBLM's "top-ranked brand overall" and earned high marks in various categories like "can't live without" and frequency of use.