Apple's Upcoming Over-Ear Wireless Headphones to Target High-End Noise-Canceling Market
As reported last month, Apple is said to be developing its own brand of high-end, over-ear wireless headphones with an "all-new" design. The new headphones are expected to debut in the fourth quarter of this year at the earliest, according to KGI Securities analyst Ming-Chi Kuo, and today Bloomberg weighed in to corroborate that rumor, along with an additional detail regarding Apple's plans for the cans.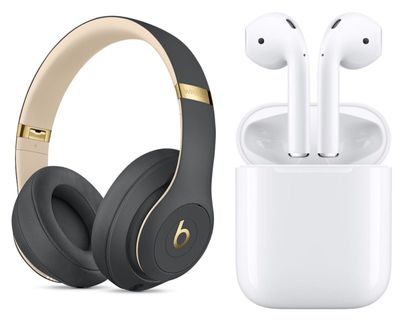 The Cupertino, California-based technology giant is working on noise-canceling, over-ear headphones that rival headsets from market leaders like Bose and even the company's own Beats by Dre brand, according to people familiar with the product's development. The company plans to launch the headphones as early as the end of this year, but has faced development challenges that might push back the release, the people said.
Kuo's earlier report specified Apple's plan was to target the high-end market, but the focus on active noise-cancelation (ANC) features puts a new angle on the company's intentions. Apple acquired Beats Music and Beats Electronics in 2014, and only five months ago, Beats launched its Studio3 wireless over-ear headphones featuring Apple's W1 Bluetooth pairing chip – first used in AirPods – and Pure Adaptive Noise Canceling technology. Apart from blocking out ambient noise, Pure ANC also evaluates fit and adjusts for leakage caused by hair, glasses, different ear shapes and head movement.
Whether Apple's own-brand ANC headphones will adopt the same set of technologies as Beats Studio3 cans remains unclear, although Bloomberg's sources indicate Apple plans to include similar wireless pairing functionality to the AirPods. The paper's sources also claim work on the headphones has been "on-and-off over the past year" and that it's still possible Apple will redesign the headphones again before launch – or even scrap the project altogether.
Another detail that remains unclear is pricing. Beats, Bose, and Sony charge $350 for their high-end wireless ANC headphones, while Sennheiser prices can run all the way up to $500. Should Apple take the same pricing strategy as it did with HomePod, which is at least $100 higher than the closest rival product from Sonos, then customers can expect the rumored headphones to be a top-tier premium audio accessory with a price tag to match.
Along with over-ear headphones, Apple is also reportedly working on several upgrades to its wireless AirPods with a new version of the popular headphones set for release as soon as this year.