Industrial Design Experts Say HomePod's White Ring Issue 'Shouldn't Be Too Hard to Fix' for Apple
Last week, Apple confirmed that the HomePod can potentially leave white rings on the surface of wooden furniture with oil or wax finishes. In an effort to help users prevent seeing these rings appear on their own furniture, Apple shared a support document on "Where to place HomePod," detailing how the interaction between the HomePod's vibration-dampening silicone base and a wooden surface has the chance to result in a white ring.
Business Insider recently spoke with a few industrial design experts who believe that the problem "shouldn't be too hard to fix" for Apple." Gregor Berkowitz, a product development consultant for numerous consumer electronics brands, expects Apple to "re-tool" its HomePod manufacturing process to address the issue with the silicone base, which could take between two to six weeks. Although the fix could take several weeks, the experts said it's "likely not very costly" for Apple.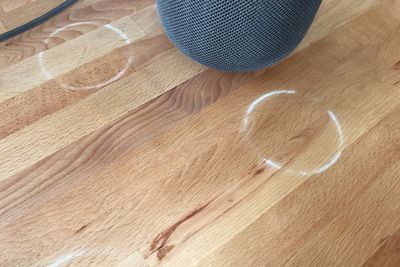 Image via Wirecutter
Senior industrial designer at Y Studios, Cesar Viramontes, referred to the white rings issue as something customers will "probably forget about" in the next few months.
Apple may need to "re-tool" the manufacturing process since silicone is manufactured using a different process than the other kinds of elastomer," said Berkowitz. If that's necessary, the process could take anywhere from two weeks to six weeks, he noted.

"It's an issue, but I think it's probably going to be one that'll be corrected in the next round of manufacturing," said Y Studios' Viramontes. "I think it will be a minor issue, and people will probably forget about it in the next couple of months when it goes away."
While the experts see a quick fix for the issue coming from Apple, all were surprised it happened in the first place. Product design expert Ignazio Moresco explained that more is expected from Apple's well-known attention to detail, and the company "should have caught the issue if they followed a rigorous QA process." The white marks aren't an Apple-specific problem, but have appeared with other speakers -- like Sonos One -- that have similar silicone bases.
Berkowitz believes the white rings could be a result of Apple's "inexperience" with making stationary speakers, in contrast to the company's familiarity with making mobile products like the iPhone and MacBook.

"This is sitting on a bookshelf. Is it going to work? Or are there going to be problems? A traditional consumer product company or a speaker company or a traditional Hi-Fi company is going to worry about that and think about those problems and have experience with it," Berkowitz said. "This shouldn't be new for Apple but it is."

"They didn't test the product enough and in the right variety of circumstances, especially considering that a wood surface is a very likely support for the product," said Ignazio Moresco, a product design expert who has worked at frog design, Microsoft and Ericsson.
For those who have discovered rings on their furniture, Apple said that these marks "will often go away after several days" once HomePod is removed from the wooden surface. Users can hasten this process by wiping the surface gently with a damp or dry cloth. Still, the company explained that if anyone is concerned about these marks, it recommends "placing your HomePod on a different surface."
Accessory makers are already creating products to act as a fix for the situation, including new leather coasters for HomePod from Pad & Quill. The $19.95 coasters are advertised as letting users place their HomePod on the wooden surfaces that have the potential to be marked by HomePod, without having to worry about the appearance of such marks.