Like HomePod, Sonos One Leaves White Rings on Some Furniture
The HomePod's silicone base can leave white rings on some wood surfaces that have an oil or wax finish, a problem that Apple yesterday said was "not unusual." As it turns out, Apple wasn't incorrect -- the Sonos One, a competing smart speaker, also leaves white rings on furniture.
Tom's Guide reviewer Mike Prospero read about the HomePod causing rings on furniture yesterday and went to check his wood cabinet, where he did indeed discover a ring caused by the HomePod. But next to it, he found smaller square shaped marks, which had been caused by the Sonos One located near the HomePod.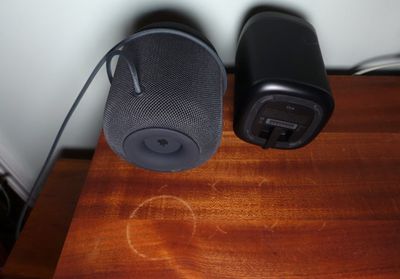 When I got home, I saw a large white ring, a telltale indication that the HomePod's silicone base had messed up the finish. But, as I was inspecting the damage, I noticed a series of smaller white marks near where the HomePod was sitting.

A closer inspection revealed that the Sonos One speaker, which also has small silicone feet, had made these marks on my cabinet. Looking around the top of the cabinet, I noticed a bunch of little white marks, all left from the Sonos Ones as I moved them around. So, they will damage your wood furniture, too. We're awaiting comment from Sonos.
Like the HomePod, the Sonos One has a silicone base with four small feet. It doesn't make a ring as prominent as the ring caused by the HomePod, but it does appear to cause the same marks.
White rings became a topic of discussion yesterday morning after independent reviews from Pocket-lint and Wirecutter pointed out the marks the HomePod left on oiled or waxed furniture. After the issue received significant media attention, Apple published a "Cleaning and taking care of HomePod" support document that warned about the potential for marks on some wooden surfaces.
Apple said it is not unusual silicone bases to leave mild marks, and that they should go away with time or with some light polishing. Tom's Guide reviewer Mike Prospero says that the marks do indeed appear to fade with time. From Apple's support document:
HomePod is designed for indoor use only. When using HomePod, make sure to place it on a solid surface. Place the power cord so that it won't be walked on or pinched.

It is not unusual for any speaker with a vibration-dampening silicone base to leave mild marks when placed on some wooden surfaces. The marks can be caused by oils diffusing between the silicone base and the table surface, and will often go away after several days when the speaker is removed from the wooden surface. If not, wiping the surface gently with a soft damp or dry cloth may remove the marks. If marks persist, clean the surface with the furniture manufacturer's recommended cleaning process. If you're concerned about this, we recommend placing your HomePod on a different surface.
It is not clear why Apple did not inform customers about the possibility of white marks on wood, as this is presumably an issue the company had to know about following the HomePod's extended beta test with Apple employees and the years of development that went into the product.
A simple HomePod care support document published ahead of the HomePod's launch, rather than after customers were left to discover the issue on their own would have likely mitigated much of the negative press and frustration from customers.
For those who are concerned about the HomePod damaging their expensive wood furniture, Apple recommends putting the HomePod on a different surface to avoid problems all together.