Apple Recorded More Than Half of Total Smartphone Industry Revenue in iPhone X Launch Quarter
Apple captured a record 51 percent share of revenue in the worldwide smartphone industry last quarter, which encompassed the launch of the iPhone X, according to research firm Strategy Analytics.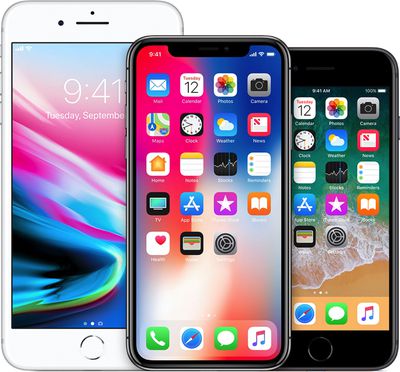 iPhone revenue totaled $61.5 billion in the fourth quarter of 2017, as Apple disclosed in its earnings report earlier this month. Strategy Analytics estimates Apple's smartphone revenue was three times higher than its nearest rival Samsung and seven times more than Chinese competitor Huawei.
Apple accounted for more smartphone revenue than the rest of the entire industry combined in the quarter, driven by "solid demand" for the iPhone X, said Strategy Analytics executive director Neil Mawston.


iPhone's average selling price was $796 last quarter, up from $695 in year-ago quarter, which Strategy Analytics estimates to be almost three times higher than the overall industry average. Apple sold 77.3 million iPhones in the quarter, but it didn't disclose how many of those sales were iPhone X models.
Priced at $999 and up, the iPhone X has undoubtedly helped Apple increase its revenue share in the smartphone industry. What's more important is profits, however, and the iPhone often accounts for over 100 percent of net income in the smartphone industry when factoring in the losses posted by some rivals.