HomePod Can Be Used as Speakerphone, Will Support Commands From Multiple Users
Apple this morning announced the official launch date for its much-anticipated HomePod, and that announcement included several new details that we hadn't previously heard about the Siri-equipped smart speaker.
In the HomePod press release, Apple says HomePod can be used as a speakerphone with the iPhone "for crisp and clear audio quality."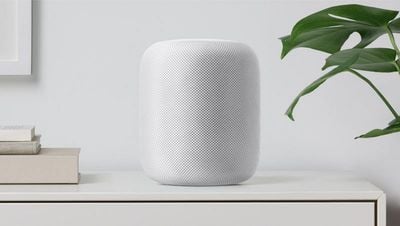 This means users will be able to take calls on the HomePod using a nearby iPhone, with the HomePod able to serve as a speaker and a microphone for the call. Further documentation shared with Apple Store staff (via Guilherme Rambo) says that this feature will allow "anyone" to make a call on their iPhone and then hand it off to the HomePod.
Everyone can continue a phone call on HomePod--Anyone can start a call on their iPhone and hand it off to HomePod for a hands-free conversation.
HomePod will not be limited to a single user, as suggested and confirmed in the HomePod documentation. Once the HomePod is set up, anyone in the home will be able to listen to music using the Apple Music account installed on the device, and anyone will be able to ask Siri questions.
Everyone can ask Siri questions--Anyone in the home can use HomePod to get everyday information like weather, traffic, new, translations, general knowledge, and more. For example, just as "Hey Siri, what's the weather like this week?"
HomePod is primarily designed to work with an Apple Music account, and while it does support Bluetooth 5.0, it's not yet clear if it will support playing music directly to the device from an iPhone or another smartphone. It will, however, support peer-to-peer AirPlay, so you can play content from third-party music apps on the HomePod using AirPlay.
Sans Apple Music subscription, though, HomePod will be able to play content that's been purchased from iTunes along with Beats 1 radio content and podcasts.
As Apple shared earlier this morning, HomePod will eventually support multi-room playback and stereo sound by linking one or more HomePods together using the new AirPlay 2 protocol, but that functionality will not be available at launch.
At launch, HomePod will be available in the United States, UK, and Australia. In the U.S., it will be priced at $349, and it will cost GBP319 in the UK and $499 in Australia.
Apple will begin accepting orders for the HomePod on Friday, January 26, with the device set to launch two weeks later on Friday, February 9.