Every one in five smartphones sold by Apple in the United States in the fourth quarter of 2017 was an iPhone X, according to data shared with MacRumors by research firm Consumer Intelligence Research Partners.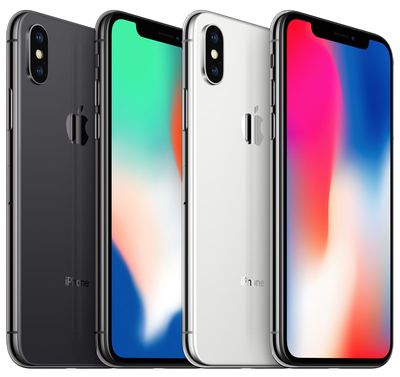 Below is the exact model-by-model breakdown of Apple's total iPhone sales between October and December, based on the firm's survey of 500 consumers who purchased an iPhone in the United States during that period.

iPhone 8: 24 percent

iPhone 8 Plus: 17 percent

iPhone X: 20 percent

All other iPhone models: 39 percent
Consumer Intelligence Research Partners co-founder Josh Lowitz says the iPhone 8, iPhone 8 Plus, and iPhone X's combined 61 percent share of Apple's total smartphone sales is 11 percent lower than the iPhone 7 and iPhone 7 Plus accounted for in the year-ago quarter, but there are several caveats to consider:
At 61%, the three newest iPhone models together represented a somewhat smaller share of total US iPhone sales in the quarter, compared to 72% for the iPhone 7 and 7 Plus a year ago. Yet, comparisons to earlier launches are tricky at best. First, iPhone X wasn't available for the full quarter. The Apple model pie is further divided, as they now offer eight models, the most ever. And, Apple launched the new phones on a different schedule, announcing three new models at once, but delaying the lauch of the most advanced and expensive one, iPhone X, for five weeks following the launch of iPhone 8 and 8 Plus.
Apple doesn't disclose iPhone sales on a model-by-model basis, so this survey only serves as a rough estimate. However, analysts and investors will be listening for any clues about the sales mix during Apple's next quarterly earnings call on February 1.