Philips Hue is back with a handful of new announcements at CES today, following Monday's news of a collaboration with Razer that allows your Hue lights to react to any game played on a device that features Razer Chroma. Philips continued that announcement by reiterating that even more partners across the gaming, movie, and music industries will debut in the future.
Philips calls this "Hue Entertainment," and added that a "Hue Sync" app for macOS High Sierra and Windows 10 devices will be coming in Q2 2018. Hue Sync will let you create and customize light scripts for games, movies, and music played on a Mac or Windows computer.
Also in Q2 2018, the company plans to update its iOS and Android apps to version 3.0, bringing about a redesign of the app inspired by comments and feedback from current Hue users. Philips said 3.0 will "enhance" existing and new features so that the smart home lighting system can be activated "with even more ease."


Design changes were not yet specified, but Philips said the new interface will allow you to "instantly access" last used scenes, as well as simplify how lights are grouped together.

Early in Q2 2018, Philips Hue will introduce a redesigned Hue app for both iOS and Android. Based on comments, feedback and ideas from Philips Hue users, the redesign will enhance both existing and new features, to help consumers light their home smarter with even more ease. The new app will improve daily use, and ensure seamless setup and integration of Hue accessories and new Philips Hue Entertainment partnership integrations. The interface will also enable consumers to instantly access their last used scenes, and to simply group lights and select their desired color temperature or color.
Finally, this summer Philips will introduce an outdoor line of Hue bulbs so that you can sync and control lighting in a backyard or elsewhere through the connected Hue app. No other information regarding the outdoor line and its price tag were given.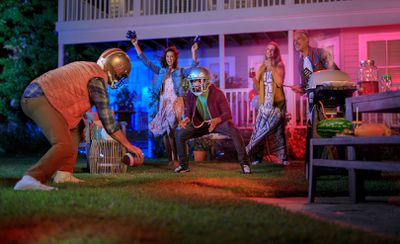 Over the past year Philips has been expanding the Hue line, launching new light fixtures, expanded starter kits, a candle light bulb, and table lamps, while extending its HomeKit support to the Hue Tap switch, Hue dimmer switch, and Hue motion sensor.