iPhone X Models With Qualcomm Modem Still Have Faster LTE Speeds Than Those With Intel Modems
iPhone X models equipped with Qualcomm's Snapdragon X16 modem get consistently better LTE speeds than versions with Intel's XMM7480 modem, according to wireless signal testing firm Cellular Insights.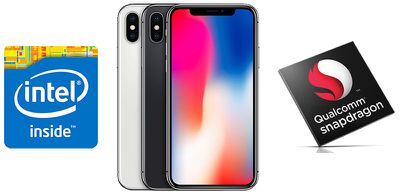 For context, Cellular Insights used professional measurement equipment equipped with four Vivaldi antennas to simulate LTE performance at different distances from a cellular tower with the Qualcomm and Intel models.
Cellular Insights started with a LTE signal from a strong -85dBm, and gradually reduced the power level to simulate moving away from a cellular tower where signal is weaker, until the modems lost their cellular connectivity.
The testing, shared with PC Magazine, was based on performance on LTE Band 4, which is used by every major carrier in the United States except Sprint, as well as in Canada and parts of Latin America.
The results reveal that with only limited attenuation, or signal reduction in simple terms, the iPhone X with an Intel modem started to experience lower LTE download speeds than the iPhone X with a Qualcomm modem.
While both modems started out with 195Mbps of download throughput on a 20MHz carrier, the Qualcomm difference appeared quickly, as the Intel modem dropped to 169Mbps at -87dBm. The Qualcomm modem took an additional -6dBm of attenuation to get to that speed.
Cellular Insights said the difference is most noticeable in very weak signal conditions, in which the iPhone X with a Qualcomm modem experienced 67 percent faster LTE download speeds on average compared to the Intel model.
At very weak signal strength, below -120dBm, the Qualcomm modem got speeds on average 67 percent faster than the Intel modem. The Intel modem finally died at -129dBm and the Qualcomm modem died at -130dBm, so we didn't find a lot of difference in when the modems finally gave out.
iPhone 7 and iPhone 7 Plus models with Qualcomm modems also had faster LTE download speeds than their Intel counterparts last year, but Cellular Insights said the gap was narrower between iPhone X models.
PC Magazine speculated that Apple could be artificially crippling the Qualcomm modem to have similar performance as the Intel modem, given the controversy that arose with the iPhone 7 and iPhone 7 Plus last year.
Qualcomm's Snapdragon X16 is a gigabit-class modem that supports 4x4 MIMO, for example, but the functionality is disabled in the iPhone X. The result is that both the Qualcomm and Intel versions of the iPhone X have a peak theoretical download speed of 600 Mbps in most countries.
All in all, what this all means is that customers who want to ensure they receive the absolute highest LTE speeds in areas with weaker signal reception should put some thought into which iPhone model they purchase.


Apple offers the iPhone X, iPhone 8, and iPhone 8 Plus in two models in the United States. The first is the Qualcomm-based model A1865, which works with CDMA networks like Verizon and Sprint in the United States. The second is the Intel-based A1901, which works with GSM networks like AT&T and T-Mobile. In other countries, Apple typically sells just one version of each phone, depending on the technology used by carriers in each country.
If you want the best possible LTE performance, purchasing the A1865 model is the best option. For now, this requires ordering the Verizon model if you want an unlocked device in the United States. In many other countries, and in the U.S. soon enough, Apple sells an unlocked SIM-free A1865 model.