Apple's Early Version of HomePod Stood Three Feet Tall and Packed Dozens of Speakers
While the HomePod was only unveiled five months ago, a team of Apple audio engineers developed several speaker prototypes as a side project over the past five years or so, according to Bloomberg.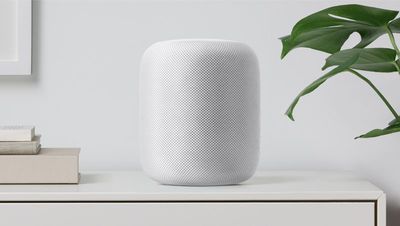 HomePod was originally a side project cooked up about five years ago by a group of Mac audio engineers, who wanted to create a speaker that sounded better than the ones sold by the likes of Bose, JBL, and Harman Kardon. Side projects aren't uncommon at Apple, where employees are encouraged to follow their muse so long as their day jobs come first.
The report claims one of the prototypes stood three feet tall, roughly five times as tall as the current HomePod, and was equipped with dozens of speakers. Another supposedly looked like a flat panel with a mesh screen on the front.
The side project was reportedly canceled and revived several times. It wasn't until 2014 that development of the speaker began to ramp up within Apple's accessories division, which also worked on the wireless AirPods.
Apple's focus was on creating a speaker with premium sound quality through the use of beam-forming speaker technology. The report claims Apple tested many variations of the speaker in specially designed audio chambers.
That same year, the report adds that Apple engineers were "blindsided" when Amazon launched its Echo speaker integrated with its voice-activated personal assistant Alexa, which is considered a hit with customers.
The Apple engineers jokingly accused one another of leaking details of their project to Amazon, then bought Echos so they could take them apart and see how they were put together. They quickly deemed the Echo's sound quality inferior and got back to work building a better speaker.
Despite the Echo launching, Apple has maintained its focus on the HomePod being a high-quality speaker, which is exactly how Apple's marketing chief Phil Schiller positioned the product at its Worldwide Developers Conference in June.
The Siri team was told that the HomePod was about music and quality sound, one of the people said. Yes, the speaker would be voice-activated but it wouldn't be positioned as a personal assistant.
As of this year, the report claims the HomePod was just one of four or five areas that Apple's Siri team was working on, given the company apparently sees it as more of an accessory than a core product like the iPhone.
Given the HomePod will be mostly limited to streaming Apple Music, controlling HomeKit accessories, and sending messages through an iPhone, the report claims Apple will be "playing catchup" with Echo-like devices.
Apple could still eventually add features to the HomePod. These might include its own app ecosystem and support for competing music services. Even so, until that happens, Apple will still be playing catchup in a category invented by a company better known for e-commerce than hardware.
Apple will be even further behind after it delayed the HomePod's release until early 2018, after originally promising it would launch in December. The delay means the $349 speaker won't be ready in time for the holiday shopping season, which could lead customers to purchase an Echo or Google Home instead.