'Guardians of the Galaxy Vol. 2' Gets 4K Mention on iTunes, Suggesting Disney's 4K Holdout May Be Ending
Guardians of the Galaxy Vol. 2 has received a card on the iTunes Movies storefront that encourages users to watch the film in 4K HDR on the Apple TV 4K, suggesting that Disney's 4K video holdout on iTunes may end soon. The change comes after news in September that Disney would be the only major Hollywood studio not supporting 4K versions of its films on the iTunes Movies store, including Walt Disney Animation Studios, Pixar, Marvel, and Star Wars movies.
Right now, Guardians of the Galaxy Vol. 2 appears under the "Now Available to Rent" section of iTunes with a new "Watch It in 4K" card, but when you tap through to the movie's page it's still listed as HD-only as of writing. As such, the mention could be an error, or the first hint at more Marvel and other Disney movies imminently gaining 4K iTunes support.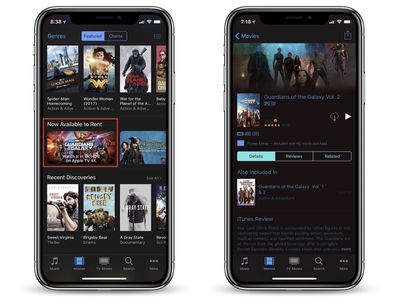 Spider-Man: Homecoming is another Marvel Studios movie -- a studio which Disney owns -- that's in 4K HDR on iTunes, but it has been 4K since it released on the digital storefront in September due to the distribution rights of the film being owned by Sony, not Disney.
For now, it appears that Guardians of the Galaxy Vol. 2 is the only Disney-related film with a hint of having imminent 4K support on iTunes. Other newly released Disney films, including Cars 3 and Pirates of the Caribbean: Dead Men Tell No Tales, don't have mentions of 4K support anywhere on iTunes yet. Apple's 4K iTunes films are priced at the same point as HD versions -- $20 -- and if you previously owned the movie in HD, Apple automatically upgrades it to 4K HDR without requiring additional payment.
If Disney does begin a wider rollout of 4K support across its iTunes film catalogue, it will be joining 20th Century Fox, Lionsgate, Paramount, Sony, Warner Bros., and Universal Pictures in backing the 4K video format on Apple devices.