Disney Is the Only Major Hollywood Studio Not Backing Apple's Plan to Sell 4K Films at $20
Apple yesterday revealed the Apple TV 4K, a new set-top box that will bring all the features of the fourth-generation Apple TV, along with the ability to stream 4K HDR video content. This includes iTunes 4K movies, which the company confirmed will be sold for the same price as HD movies at $20 apiece. Users will even be able to gain access to 4K movies they've already purchased in HD at no extra charge.
When it made this announcement, Apple showed off a list of Hollywood studios during the keynote that will support 4K movies on iTunes at this price: 20th Century Fox, Lionsgate, Paramount, Sony, Warner Bros., and Universal Pictures. In a new report today, The Wall Street Journal noted that the major absence among this list is Disney.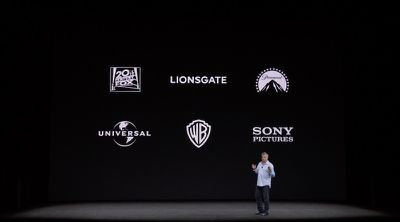 The one absence from Apple's list of big studios selling movies in UHD is Disney. It wasn't immediately clear why the company behind Star Wars and Marvel couldn't reach an arrangement with Apple. It currently sells its films in 4K on other digital stores, such as Wal-Mart Stores Inc.'s Vudu, for $24.99.

Disney's absence is particularly notable given a longstanding close relationship between the two companies. Disney Chief Executive Robert Iger is on Apple's board of directors and Disney was the first studio to sell television shows and movies on iTunes.
Apple is said to have made deals with these studios so that 4K films would not rise above $20, but a few weeks ago it was reported that some studios were vying for $25-$30 for each 4K movie on iTunes. It isn't currently clear why Disney films -- which include Marvel and Star Wars -- won't be available in 4K on iTunes, but the WSJ pointed out that Disney currently sells its films in 4K on apps like Vudu, but at a higher price of $24.99. If talks fell through with Apple, that price tag is likely the reason why.
Apple's negotiations with participating studios reportedly went down to the wire, ending just weeks ahead of the September 12 reveal of the Apple TV 4K. Some studios are also said to still be interested in offering movies on platforms like iTunes just weeks after they debut in theaters, suggesting time frames and prices like 17 days after a theatrical debut for $50, or four to six weeks from release for $30. These talks are still ongoing and it remains to be seen if Apple and iTunes would ultimately take part in such a feature.