Marco Arment, a developer best known for co-founding Tumblr and creating apps Instapaper and Overcast, believes the 2012 to 2015 era 15-inch MacBook Pro is "the best laptop that has ever existed."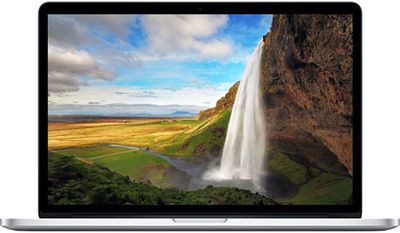 2015 15-inch MacBook Pro
"Introduced in 2012, less than a year after Steve Jobs died, I see it as the peak of Jobs' vision for the Mac," said Arment in a
blog post
this week.
The 2012 model was the first MacBook Pro with a Retina display, and had a much slimmer design compared to previous models after Apple removed the built-in Ethernet port and optical disc drive for CDs/DVDs.
Apple refreshed the 2012 model in each of the following three years, but kept the external design largely the same.
Arment sees value in the 2012 to 2015 model's array of connectivity options, including a pair of Thunderbolt and USB-A ports, an HDMI port, a SD card slot, and a MagSafe power adapter that breaks away safely if it's tripped over.

2015 15-inch MacBook Pro
By comparison, the 2016 and later MacBook Pro has two or four Thunderbolt 3 ports that handle power, USB, DisplayPort, HDMI, and VGA, resulting in Apple removing dedicated USB-A, HDMI, SD card, and MagSafe connectivity from the notebook.
He added that the 2012-2015 keyboard has a "crowd-pleasing design" and that the trackpad strikes a "great balance between size and usability."
2016 and later MacBook Pro models have a slimmer keyboard with a second-generation butterfly mechanism that has less key travel than 2012-2015 models, and a larger trackpad that is closer to the keyboard.


Apple packed a smaller 76 watt-hour battery pack into the latest MacBook Pro models, and while the notebooks are rated for up to 10 hours of battery life between charges, there were several early complaints in real-world usage.
All of these changes generated some controversy within the Apple community, particularly among professionals, so Arment's opinion is sure to resonate with some users, including among customers who refuse to upgrade.
Despite some early complaints, however, the MacBook Pro appears to be selling very well for Apple. In fact, Apple CEO Tim Cook said the Mac set a new all-time revenue record of $25.8 billion in the 2017 fiscal year, with sales fueled primarily by "great demand" for the MacBook Pro in particular.
We sold 5.4 million Macs during the September quarter, up 10 percent over last year, and gained significant market share as the global market contracted by one percent, according to IDC's latest estimate. This performance was fueled primarily by great demand for MacBook Pro, and Mac revenue grew 25 percent to a new September quarter record.
For now, Apple continues to sell the 2015 15-inch MacBook Pro with a 2.2GHz quad-core Intel Core i7 processor, 16GB of RAM, 256GB of SSD storage, and integrated Intel Iris Pro graphics for $1,999 in the United States.
Full Article: "The best laptop ever made" by Marco Arment