Apple Has Given Drake Permission to Produce 'Whatever He Chooses' Amid His Push Into TV and Film
In an in-depth article about Drake's push into the TV and film industry, The Hollywood Reporter claims that Apple has given the Toronto-born rapper permission to produce "whatever he chooses."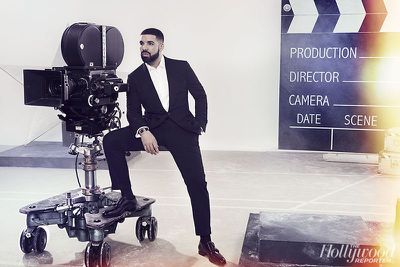 Here's what the report says, with emphasis ours:
But the biggest indicator of Drake's big Hollywood push is whom he is partnering with next: Steve Golin, who runs Anonymous Content (one of Hollywood's hottest production houses and home of Spotlight and Mr. Robot), for an untitled TV series; film studio A24; and, perhaps most significantly, Apple, which has given him the go-ahead to produce whatever he chooses — at least, according to Jimmy Iovine — just as the cash-flush titan is poised to shake up the content space.
Drake's exact strategy remains to be seen, but Apple says it will simply support whatever he wants to do, according to the report. After all, the artist has been an extremely valuable partner for Apple over the past few years.

Drake and Apple's Eddy Cue introduced Apple Music at WWDC 2015 via Associated Press
Not only did Drake help
unveil and promote Apple Music
on stage when it launched in 2015, but he became the
first artist to top one billion streams
on the service with his hit album "Views" last year. His show OVO Sound Radio on Apple's Beats 1 station also
holds the record for the most listened-to episode
to date.
"Drake almost single-handedly helped us become culturally relevant from the day we launched," said Robert Kondrk, a vice president of Apple Music.
The report claims American rapper Future, who is friends with Drake, may also have the green light from Apple to produce content.
"If I had a company today, I would give it to Drake and Future to run in a minute," said Jimmy Iovine, the record mogul who has worked at Apple since its $3 billion acquisition of Beats in 2014. "They're incredibly talented guys. Very, very gifted."
Full Article: Drake's Hotline to Hollywood: Inside an Ambitious Push Into Film and TV