Apple Releases Second Public Beta of iOS 11.2 for Public Beta Testers
Apple today released the second public beta of iOS 11.2 to its public beta testing group, one week after releasing the first public beta and a little over a week after the release of iOS 11.1, the first major update to the iOS 11 operating system.
Beta testers who are members of Apple's beta testing program will receive the iOS 11.2 beta update over-the-air after installing the proper certificate on an iOS device.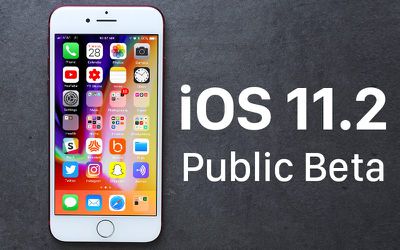 Those who want to join the beta testing program can sign up on Apple's beta testing website, which gives users access to iOS, macOS, and tvOS betas. iOS betas are not always stable and should not be installed on a primary device.
Apple is allowing public beta testers to test Apple Pay cash starting with today's iOS 11.2 beta. iOS 11.2 beta 2 also fixes an autocorrect bug plaguing many people. The bug autocorrects the letter "i" to "A[?]." Apple has recommended a temporary workaround in the form of a Text Replacement, but the problem will be fixed for good once iOS 11.2 is released.
iOS 11.2 fixes an animation bug in the Calculator app that caused some numbers and symbols to be ignored when entered in rapid succession. The update removes the animations from the calculator app so calculations can be done quickly with no need to pause between entering numbers to obtain the correct result.
In addition to the Calculator bug, iOS 11.2 introduces a new Now Playing option for controlling content on the Apple TV in Control Center, redesigned camera emoji, and a new loading animation for Live Photos effects.