Fix for iOS Autocorrect Bug Reportedly Arrived in Latest Developer Beta, Coming to Public Beta This Week
For well over a week, many iOS 11 users have been noting a strange autocorrect bug plaguing their devices, which autocorrects the letter "i" to the uppercase letter "A" and a question mark symbol. Apple has issued a support document to help anyone facing the problem figure out a temporary workaround, but The Wall Street Journal recently reported that the bug has been fixed in the second iOS 11.2 developer beta released yesterday.
A few MacRumors forum members also mentioned a fix appearing in the second developer beta of iOS 11.2, although none seem to have yet confirmed the fix is implemented, likely because they never faced the bug in the first place. In The Wall Street Journal's report, an Apple spokesperson confirmed that an update fixing the problem "will be included in this week's public and developer beta releases."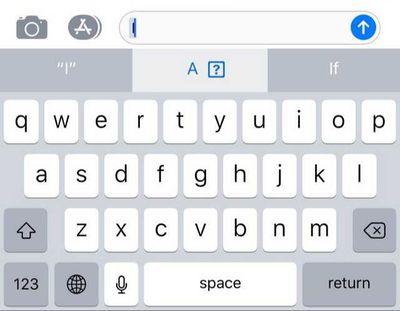 A window for the non-beta fix wasn't given by Apple, but the company said the wide release rollout will follow, which was expected. At this point, it's unclear whether Apple will introduce the autocorrect bug fix in a quick update, or wait and launch it in iOS 11.2. It's been one week since iOS 11.1 launched, so 11.2 will probably not drop until later in November.

Nevertheless, Apple said it would patch the problem in an iOS update. "A fix will be released very soon," an Apple spokeswoman said. It will be included in this week's public and developer beta releases, with wide rollout to follow.
Although Apple originally stated that the bug was related to iOS 11.1, Apple confirmed that it "could also appear in earlier versions of iOS 11." Both The Wall Street Journal and multiple MacRumors forum members mentioned seeing the issue surface on devices running iOS 11.0.3.
If you are having trouble with the bug, Apple's temporary solution is to set up a Text Replacement for the letter "i" by visiting the Settings app > General > Keyboard > Text Replacement. After tapping the plus button to add a new replacement, in the Phrase field type an uppercase "I", and in Shortcut type a lowercase "i".
You can also toggle "Predictive" off completely in the Keyboard section of Settings, although that would greatly hinder the keyboard usability for many users. Third-party keyboard apps like Gboard are also available to type on without having to worry about the autocorrect bug.