Apple Celebrates iPhone X Launch Day as Sales and Deliveries Begin Around the World
Apple today celebrated the launch of the new iPhone X by sharing some images of customers around the world buying and trying out the smartphone for the first time.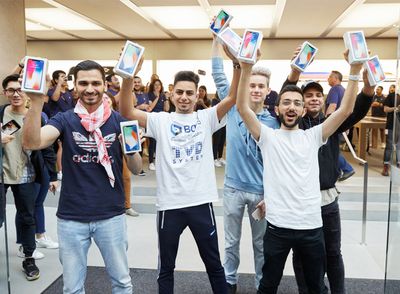 George Street, Sydney
Apple Stores globally open at 8:00 a.m. local time to allow customers to pick up their reserved devices and make walk-in purchases, and Apple posted pictures of customers at Apple Stores in Dubai, Shanghai, Singapore, Tokyo, and Sydney.
Years in the making, the iPhone X (pronounced "iPhone 10"), is Apple's latest and most advanced flagship device to date, featuring a 5.8-inch OLED display, Face ID facial recognition, wireless inductive charging, and a faster A11 Bionic processor.

Apple Store, Fifth Avenue, New York (Image: @jonfortt)
Initial demand for the smartphone appears to be strong, with long lines forming outside Apple Stores around Europe, Asia, and Australasia, following advice from the tech giant that people get to stores early if they want to be in with a chance of purchasing the smartphone on launch day.

Apple Store, Tokyo
Large queues have been seen in
Singapore
,
Madrid
,
Amsterdam
,
Belfast
,
Edinburgh
, and
Liverpool
. Outside the Apple Store in Regent Street, London, a line of several hundred people snaked
right around the corner
. Stores are just now beginning to open in the U.S., where queues were sighted across the country
overnight
and have been growing ever since.

Apple Store, Shanghai
The only exception seems to be in Belgium and France, where
due to anti-terrorism restrictions
, Apple is not selling the iPhone X to customers there without a pre-order or pickup reservation.
Meanwhile, customers in New Zealand and Australia were first to receive their shipped iPhone X pre-orders today thanks to time zone differences, and now customers across Asia and Europe have been following in kind.

Pre-order delivery in the U.K. (Image: MacRumors reader Stormchasejg)
In the United States, the first iPhone X deliveries will take place on the east coast starting at 8:00 a.m. iPhone X pricing starts at $999 for the 64GB model, with the 256GB model priced at $1,149.
Stay tuned to MacRumors for more coverage of the iPhone X launch throughout the day.