iPhone X Predicted to 'Absorb' Up to $30B in Holiday Spending at Expense of Other Retailers
High demand for the iPhone X will drive an upgrade "supercycle" this holiday season that could see shoppers spending the bulk of their holiday cash at Apple Stores, according to a note from Morgan Stanley analyst Katy Huberty (via Business Insider).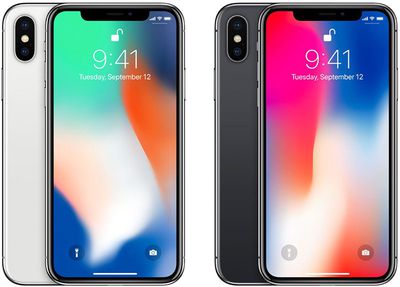 Given the high price of the iPhone X, which starts at $999, the iPhone X could "absorb" $30 billion of discretionary spending during the holidays, impacting other retailers. Huberty believes customers will be drawn to all of the new features in the iPhone X, and will reduce spending in other categories in order to afford the device.
"Apparel is a wallet share donor to other categories, with cell phones/technology and services being two of them. We see this upgrade supercycle coupled with the very high $999 iPhone X average selling price as a significant headwind to Specialty Retailers and Department stores in the fourth quarter."
After spending upwards of a thousand dollars on a phone, Huberty believes customers will be left thinking things like "'I just bought a $1,000 phone last month, I don't really need another pair of jeans.'"
Combined, Huberty believes iPhone X, iPhone 8, and iPhone 8 Plus could take approximately $52.6 billion of spending away from other categories this holiday season. Given the limited supply of the iPhone X, other retailers could be impacted by sales of the device well into 2018 as Apple works to reach supply/demand balance.
Apple has not provided insight into iPhone X sales thus far, but the company has said demand for the new device, which sold out in just a few minutes after pre-orders went live, is "off the charts."