Apple continues to defend its proposed data center in Galway County, Ireland, during an oral hearing brought together from an appeal by independent planning body An Bord Pleanála. This time, those against the company's site in Derrydonnell Forest argued that it is planning to build in a location that's too close to a local nuclear power plant (via Business Insider).
Oscar Gonzalez, who works in data center site selection at Apple, defended the company's west coast of Ireland location, stating that it meets Apple's goal of being at least 320km from the nearest nuclear facility. According to a few witnesses present at the oral hearing, however, the Derrydonnell Forest location was so desired by Apple that the company manufactured the arbitrary 320km rule of thumb to eliminate areas of Ireland that are specially designated for data center construction.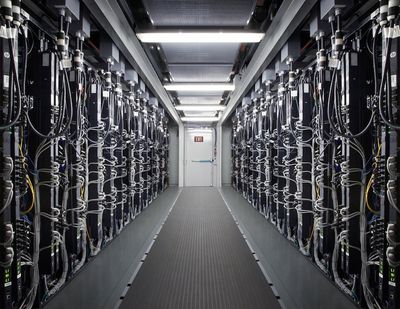 "Brenda McGuane and Others" suggest that Apple adopted the 320km radius to eliminate more suitable plots of land in other parts of Ireland. They say: "the selection of sites greater than 320km from nuclear facilities is not a criteria adopted by Apple for its data centres in the US. The criteria has not been adopted by other international corporations."

The fact that the likes of Google and Microsoft have built data centres near Dublin shows that other large tech companies are willing to put their server farms less than 320km away from UK nuclear sites.
The nearest nuclear facility to the proposed site - called Wylfa Nuclear Power Station - is located in Wales and is approximately 280km away, but it's been closed down for a few years, so its use as a violation of Apple's own rules didn't hold much water during the oral hearings. The second farthest site that is currently operating, located in Sellafield in the United Kingdom, is about 370km from Derrydonnel Forest.
Gonzalez said that Apple first and foremost attempts to "minimize the risk" of site selection, referring to the 320km rule, but when it has to accept compromises it does so "reluctantly." Engineer Allan Daly pointed out that Apple's ruleset for picking and choosing data center locations remains largely nebulous on a plot-by-plot basis, suggesting the company "picks and chooses" when it decides to meet them. "The distances to nuclear facilities, military installation and fuel distribution centers are arbitrary, and can be increased or decreased," Daly wrote.
In response, Gonzalez stuck to Apple's reluctant compromise point, explaining that as time passes, potential data center sites are evaluated by different rules and perspective as Apple's "huge growth in demand" changes the need for such sites. Other protestors of the Derrydonnel Forest location have attempted to use its negative impact on the population of local bats and badgers, and poor water maintenance that could flood a local golf course, as their main points of contention against Apple.