Over a year after announcing its plan to spend $2 billion on new data centers in Ireland and Denmark, Apple is now defending its decision for the former location amidst rising concern that its state-of-the-art facilities will have negative effects on local animal populations, and could lead to potential flooding concerns on a neighboring golf course (via Business Insider).
Irish planning body An Bord Pleanála managed to temporarily halt construction of the Ireland-based data center thanks to these concerns, which were brought to it by a number of individuals and organizations. Its biggest question was asking why Apple chose the middle of Derrydonnell forest in Galway County, Ireland as its planned site for the server farm, given that there are other places in Ireland designated specifically for data center construction.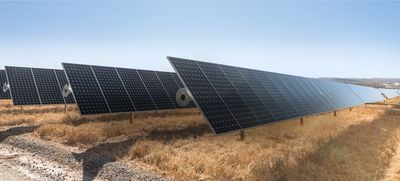 Solar panels at Apple's data center in Maiden, North Carolina


Apple's senior director of global data center services, Robert Sharpe, explained the vital nature of the European data centers as part of Apple's continued expansion and support for its various services like the App Store, Apple Music, Apple Pay and iCloud. Sharpe said that Apple must pursue this phased development (the Derrydonnell Forest center would be constructed over 10-15 years) to continue to accommodate for more smartphones, more services, and more users expecting quality experiences out of both.

"Derrydonnell forest, the site of the proposed development, offers a combination of factors that make it uniquely attractive for a data centre," Sharpe said. "It is a large site, currently used for commercial forestry, which sits extremely close to two major high voltage power transmission lines in an area rich in renewable energy resources."
During the hearing, Sharpe also addressed the environmental concerns raised by locals of the county, claiming that there would be both limited visual pollution to the area thanks to the thickness of the forestry, and that Apple would replenish any wildlife it removed during construction.

"The site presents us with an ideal opportunity to develop a very large, sustainable data centre, which meets our projected needs over the next 10 to 15 years. The woodland will enable us to make the site largely invisible beyond the site and we are able to improve the overall biodiversity of the site by increasing the proportion of native broadleaf trees."

The site in Ireland is planned to consist of eight total buildings each housing thousands of servers for Apple's various online services. The company's original planning application -- which has now been halted by An Bord Pleanála -- is for just one of the eight buildings, so it will have to reapply for each future planned expansion over the next estimated 10-15 years. There was no word yet on the outcome of the hearing in Ireland.
Sharpe address the various concerns presented to Apple -- including flooding issues and water drainage plans -- in his full opening statement.