National Association of Broadcasters Again Urges Apple to Add FM Radio to iPhones
Following Apple's clarification that iPhone 7 and iPhone 8 models do not have FM radio chips or antennas designed to support FM signals, the National Association of Broadcasters (NAB) has expressed some doubt about Apple's statement and has called on the company to add FM functionality to its future iPhones.
In a blog post, the NAB points to a series of iPhone 8 teardowns that indicate the iPhone 8 uses a Broadcom chip with an integrated FM radio core as evidence that Apple's devices already have some of the hardware required for FM radio support.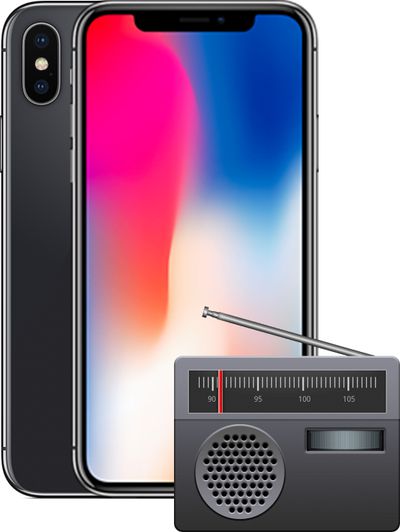 According to Apple, the iPhone 7 and the iPhone 8 do not currently have FM radio chips or antennas to support FM signals, and it is not clear how simple it would be for the company to add these features to future devices. From a statement made to MacRumors:
Apple cares deeply about the safety of our users, especially during times of crisis and that's why we have engineered modern safety solutions into our products. Users can dial emergency services and access Medical ID card information directly from the Lock Screen, and we enable government emergency notifications, ranging from Weather Advisories to AMBER alerts. iPhone 7 and iPhone 8 models do not have FM radio chips in them nor do they have antennas designed to support FM signals, so it is not possible to enable FM reception in these products.
The disagreement between Apple, the NAB, and the FCC is related somewhat to their various points of view. Apple's claim that recent iPhones do not have the necessary hardware to support FM radio is indeed true, which means Apple can't simply flip a software switch to activate it.
The NAB seems to be making the case that it would be relatively trivial for Apple to make hardware revisions to enable it in future devices considering the Wi-Fi/Bluetooth chip in the iPhone can support it and Apple has proven it can incorporate FM antenna connections in the iPod nano.
Apple has built and offered a wonderful FM app in their iPod Nano for many years. They know how to make FM work, and work well, in their mobile devices. Apple even wrote its own Nano app that allows the user to pause live radio and buffer up to 15 minutes of content.

However, Apple has specifically chosen not to offer this functionality in their iPhone. Indeed, Apple has disabled FM chips despite the capability being available on the communications module within the iPhone. This means other app developers cannot offer FM apps either.
In its blog post, the NAB appeals to Apple CEO Tim Cook, highlighting the number of hurricanes experienced in Mobile, Alabama, Cook's hometown, since 1969, and calling on the company to introduce FM support as a way for customers to get news alerts during disasters.
FM radio functionality in the iPhone first started gaining media attention last month, following a series of powerful hurricanes that struck several states. At that time, FCC chairman Ajit Pai issued a statement urging Apple to activate FM radio capabilities in its iPhones, which Apple later said was not possible.
"It's time for Apple to step up to the plate and put the safety of the American people first," Pai wrote. "Do the right thing, Mr. Cook. Flip the switch. Lives depend on it."