Apple Faces Renewed Pressure to Enable FM Radio Chip in iPhones Amid Strong Hurricane Season [Updated]
A series of powerful storms over the past six weeks, including Hurricanes Harvey, Irma, and Maria, has placed renewed pressure on Apple to enable the FM radio capabilities of the wireless modem in every iPhone.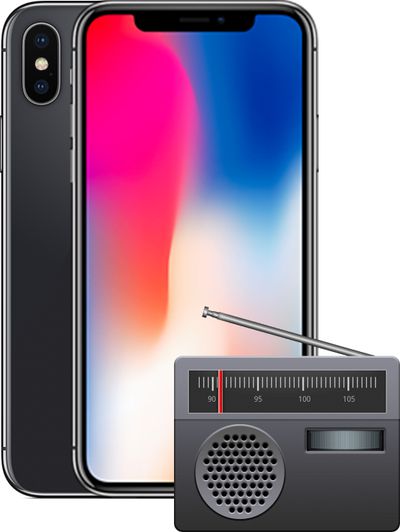 The biggest push continues to come from the National Association of Broadcasters, a lobbying group that represents over-the-air radio and television broadcasters in the United States, according to Bloomberg.
"Broadcasters are providing information on how to evacuate quickly, where flood waters are raging, how to get out of harm's way if there's a tornado or a hurricane," said Dennis Wharton, a spokesman for the National Association of Broadcasters. "The notion that Apple or anyone else would block this type of information is something that we find fairly troubling."
Both the Qualcomm and Intel chips that enable Wi-Fi and cellular connectivity in every iPhone have a built-in FM tuner that would allow people to listen to FM radio over the air. Apple has not enabled the functionality, forcing users to use an app to stream FM radio over Wi-Fi or cellular data.
Powerful storms can leave thousands or millions of people without power or cellular service for weeks or even months, however, which can make it difficult or impossible to listen to FM radio over Wi-Fi or cellular.
FCC chairman Ajit Pai also renewed his calls for smartphone manufacturers to enable the chip during a recent trip to areas of southern Florida devastated by Hurricane Irma earlier this month, according to the report.
Pai, speaking with ABC affiliate WPBF 25 in West Palm Beach, said the chip is especially valuable "when it's an emergency."
"The FM chip is a valuable functionality, not just when times are good or when it helps you save battery life or reduces congestion on the wireless network, but especially when it's an emergency. People want to tune in to the radio broadcast and get emergency information and this can be a valuable way of doing that," said Pai.
In February, at the Future of Radio and Audio Symposium in Washington D.C., Pai said "radio is vital" when disaster strikes.
When disaster strikes, often knocking out cell networks and Internet service, over-the-air radio is a lifeline, providing the latest weather forecasts or directions on where to seek shelter or relief assistance. After hurricanes or tornadoes or fires or floods, time and again, we see an exponential surge in radio audiences.
He added that most consumers would enjoy the ability to access free content over the air, like music on FM radio stations, which some critics believe is a key reason why Apple hasn't enabled the functionality.
It seems odd that every day we hear about a new smartphone app that lets you do something innovative, yet these modern-day mobile miracles don't enable a key function offered by a 1982 Sony Walkman.

You could make a case for activating chips on public safety grounds alone. The former head of our Federal Emergency Management Administration has spoken out in support of this proposal. […]

Moreover, most consumers would love to access some of their favorite content over-the-air, while using one-sixth of the battery life and less data. As more and more Americans use activated FM chips in their smartphones, consumer demand for smartphones with activated FM chips should continue to increase.
Pai noted that he is a believer in free markets and the rule of law, and he thereby cannot support a government mandate requiring activation of these chips, nor does he believe the FCC has the power to issue such a mandate.
Apple declined to comment on the report, and its stance on the activation of FM receivers in iPhones remains unclear.
Update: FCC chairman Ajit Pai has issued a statement that directly calls on Apple to "step up to the plate and put the safety of the American people first" by activating the FM radio chip in iPhones, in light of Hurricanes Harvey, Irma, and Maria.
In recent years, I have repeatedly called on the wireless industry to activate the FM chips that are already installed in almost all smartphones sold in the United States. And I've specifically pointed out the public safety benefits of doing so. In fact, in my first public speech after I became Chairman, I observed that '[y]ou could make a case for activating chips on public safety groundsalone.' When wireless networks go down during a natural disaster, smartphones with activated FM chips can allow Americans to get vital access to life-saving information. I applaud those companies that have done the right thing by activating the FM chips in their phones.

Apple is the one major phone manufacturer that has resisted doing so. But I hope the company will reconsider its position, given the devastation wrought by Hurricanes Harvey, Irma, and Maria. That's why I am asking Apple to activate the FM chips that are in its iPhones. It is time for Apple to step up to the plate and put the safety of the American people first. As the Sun Sentinel of South Florida put it, 'Do the right thing, Mr. Cook. Flip the switch. Lives depend on
it.'"
Update 2: MacRumors has received the following statement from an Apple spokesperson:
Apple cares deeply about the safety of our users, especially during times of crisis and that's why we have engineered modern safety solutions into our products. Users can dial emergency services and access Medical ID card information directly from the Lock Screen, and we enable government emergency notifications, ranging from Weather Advisories to AMBER alerts. iPhone 7 and iPhone 8 models do not have FM radio chips in them nor do they have antennas designed to support FM signals, so it is not possible to enable FM reception in these products.
We'll update this article if the FCC responds to Apple's statement.