iPhone X Parts Suppliers Reportedly on Schedule to Meet 2017 Production Demand
Yield rates for some iPhone X components have improved and become more stable, allowing for shipments of the upcoming smartphone to grow substantially after October, according to sources from Apple's supply chain.
Yesterday it was reported that Apple manufacturer Foxconn has started shipping its first iPhone X units from its main plant in Zhengzhou, China. The same sources are now reporting improved production yield rates for key parts such as the 3D sensing modules, signaling the first positive indicator from suppliers previously struggling to meet Apple's demand.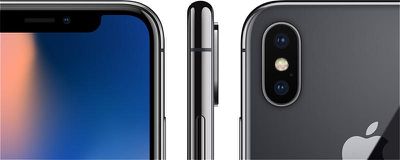 The first batch of iPhone X devices has already been shipped out from Foxconn Electronics' site in Zhengzhou (Henan, China), said the sources. With production yield rates for certain key components such as 3D sensing modules improving, shipments of the device have increased gradually and will meet Apple's demand ahead of the Christmas and New Year's holidays, the sources indicated.
DigiTimes quoted sources at analog IC vendors who said that chip deliveries for the iPhone X have been on schedule up to now, with orders fulfilled on time for the device in the third quarter. The same sources claimed they were not aware of any production delays or shipment cutbacks, contradicting media reports and analyst claims of supply issues, particularly with respect to tricky-to-manufacture 3D sensing modules used in Apple's new TrueDepth camera.
Chip orders for the iPhone X are now expected to grow through the fourth quarter of 2017, before slowing down in the first quarter of the following year, said the sources.
At the same time however, other supply chain sources have sounded a note of caution over the late availability of the iPhone X and worries about pre-order demand for the device outstripping supply, with a supply/demand balance not achievable until the first quarter of 2018.
There are some suggestions that iPhone 8 and iPhone 8 Plus sales have been lower than expected, as the public bides their time until the more feature-rich iPhone X hits stores, although with no actual sales figures at hand, this is still purely speculation.
Pre-orders for the iPhone X start on Friday, October 27, with the device's official launch the following Friday, November 3.