Apple Doesn't Deliberately Slow Down Older Devices According to Benchmark Analysis
Benchmarking company Futuremark recently set out to debunk long-running speculation that Apple intentionally slows down older iPhones when it releases new software updates as a way to encourage its customers to buy new devices.
Starting in 2016, Futuremark collected over 100,000 benchmark results for seven different iPhone models across three versions of iOS, using that data to create performance comparison charts to determine whether there have been performance drops in iOS 9, iOS 10, and iOS 11.
The first device tested was the iPhone 5s, as it's the oldest device capable of running iOS 11. iPhone 5s, released in 2013, was the first iPhone to get a 64-bit A7 chip, and iOS 11 is limited to 64-bit devices. Futuremark used the 3DMark Sling Shot Extreme Graphics test and calculated all benchmark scores from the iPhone 5s across a given month to make its comparison.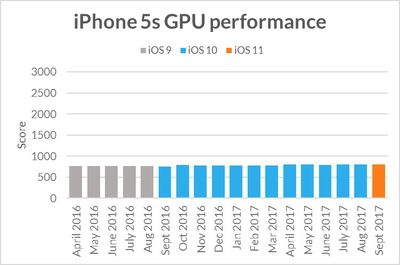 The higher the bar, the better the performance, and based on the testing, GPU performance on the iPhone 5s has remained constant from iOS 9 to iOS 11 with just minor variations that Futuremark says "fall well within normal levels."
iPhone 5s CPU performance over time was measured using the 3DMark Sling Shot Extreme Physics test, and again, results were largely consistent.


Charts for other devices, including the iPhone 6, 6s, and 7, show some mild dips and increases when it comes to GPU performance. In the iPhone 6 and 7, GPU performance is up compared to previous-generation versions of iOS.


CPU performance across those three devices has dropped slightly, something Futuremark attributes to "minor iOS updates or other factors." "A user would be unlikely to notice this small difference in everyday use," says the site. Based on its benchmarking comparisons, Futuremark claims "there are no signs of a conspiracy."
Our benchmarking data shows that, rather than intentionally degrading the performance of older models, Apple actually does a good job of supporting its older devices with regular updates that maintain a consistent level of performance across iOS versions.
Raw CPU and GPU power across devices does not offer a complete picture of performance on an older device that's updated to a new operating system, however, nor are benchmarks an accurate measure of real world performance. Apple may not be deliberately slowing down older devices with its software updates, as some have speculated, but there are other factors to take into account.
New features that eat up more system resources can make a device feel slower, as can more system intensive design elements and other tweaks and changes designed for newer devices that are more powerful.
Apple's operating system updates also introduce more advanced APIs and technology for its newest devices, leading to built-in and third-party apps that are aimed at more powerful devices and may not be optimized on older devices, resulting in an older device feeling more sluggish than a newer device following an iOS update.
Sometimes, there are also early bugs in the software that need to be worked out through additional updates. For example, we've seen complaints of app slowdowns and performance drops from users who have installed iOS 11, issues that may be resolved as Apple tweaks and updates the iOS 11 operating system.