Apple Releases iOS 11.0.2 Update With Fix for iPhone 8 Crackling Earpiece Issue
Apple today released the second official update to its new iOS 11 operating system, iOS 11.0.2. iOS 11.0.2 comes one week after Apple released iOS 11.0.1, and two weeks after Apple released iOS 11 to the public.
The iOS 11.0.2 update can be downloaded to all eligible devices over-the-air in the Settings app. To access the update, go to Settings --> General --> Software Update.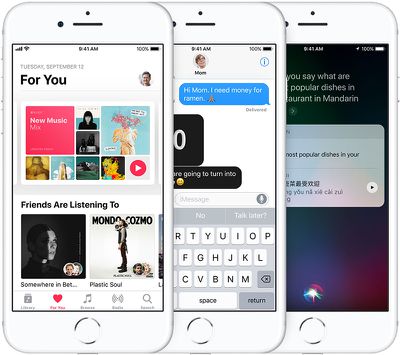 Today's update addresses bugs that have been discovered following the release of iOS 11. According to Apple's release notes, the update fixes an issue that caused some iPhone 8 and iPhone 8 users to hear a crackling or static noise coming from the earpiece during phone calls and FaceTime calls.
The bug, described by users as "very annoying," was first discovered shortly after the launch of iOS 11, and in late September, Apple said it was working on a fix that would be released in a future update. For affected users, the only way to avoid the static sound was to use headphones or the speakerphone function, as changing cellular settings and resetting the device did not help.
Following the update to iOS 11.0.2, iPhone 8 and 8 Plus owners that have been plagued by crackling should be able to resume phone calls as normal with no further interruption. Today's update also addresses an issue that could cause some photos to become hidden and it fixes an email bug.
- Fixes an issue where crackling sounds may occur during calls for a small number of iPhone 8 and 8 Plus devices
- Addresses an issue that could cause some photos to become hidden
- Fixes an issue where attachments in S/MIME encrypted emails would not open
iOS 11 is a major update to the iOS operating system, introducing a redesigned Lock screen experience, a new customizable Control Center, a more natural Siri voice, a redesigned App Store, new HEVC and HEIF codecs for better photo and video efficiency, and an entirely overhauled interface for the iPad. For more info on all the new features in iOS 11, check out our iOS 11 roundup.