Samsung Expected to Earn $4B More Making iPhone X Parts Than Galaxy S8 Parts
Samsung looks on course to earn around $4 billion more in revenue making parts for the iPhone X than from the parts it makes for its own flagship Galaxy S8 handset, according to new research revealed on Monday.
An analysis conducted by Counterpoint Technology for The Wall Street Journal based its prediction on projected sales in the 20 months after the new iPhones go on sale November 3. According to CounterPoint, the reason for the chosen time window is that the majority of sales for a new smartphone typically occur in the first 20 months after its debut.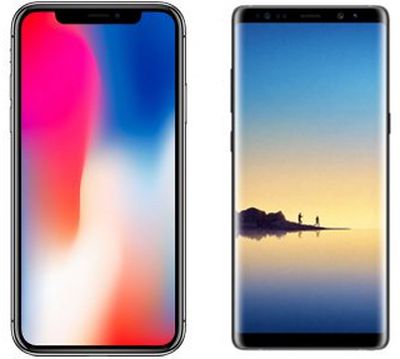 Counterpoint expects Apple will sell 130 million iPhone X units, earning Samsung $110 on each through the summer of 2019, while Galaxy S8's global sales are expected to be 50 million, earning Samsung $202 each from components such as displays and chips in its first 20 months of sales, according to estimates based on a projected bill of materials. The Counterpoint analysis includes parts sales from Samsung Electronics plus two Samsung affiliates that make batteries and capacitors.
Apple and Samsung are expected to be the world's two most profitable companies in 2017, excluding Chinese banks, according to S&P Global Market Intelligence. Samsung's components operation stands to make billions of dollars supplying the OLED screens and NAND flash memory chips for the new iPhone. Meanwhile, Apple hopes its new iPhone 8 and iPhone X range will boost its smartphone sales, which accounted for two-thirds of the company's $215.64 billion revenue in fiscal 2016, according to investment bank CLSA.
WSJ reports that Apple and Samsung's close association can be traced back more than a decade to when Lee Jae-yong — the grandson of Samsung's founder — personally negotiated with Apple co-founder Steve Jobs to provide flash memory for iPods, according to people familiar with the matter.
That enduring relationship has strengthened in recent months, but mostly out of pure necessity. Samsung is one of only a small number of semiconductor makers that can make large amounts of NAND flash memory, and remains the only significant manufacturer of the OLED displays adopted by Apple for the iPhone X, tightening the dependence of the two companies on each other.

At meetings, Samsung executives are known to tell attendees who pull out iPhones: "It's OK. They're our best client," according to people familiar with the matter.

Samsung employees often refer to Apple with code names. One of the most popular is "LO," short for "Lovely Opponent," people familiar with the matter said. Apple's descriptor for Samsung, meanwhile, is Samsung, according to people with knowledge of the situation. Employees at the iPhone maker are often critical of its rival's devices, pointing out software and hardware flaws behind closed doors.
The business relationship, however, hasn't been without its ups and downs. In 2011, Apple sued Samsung over alleged patent infringement of its smartphones, leading Samsung to counter-sue with its own infringement allegations. Steve Jobs famously called the dispute – which remains unresolved to this day – a "thermonuclear" legal war.
KGI Securities analyst Ming-Chi Kuo has claimed OLED iPhone panel supply is "controlled wholly by Samsung", which may have contributed to the $999 iPhone X's high price. In a bid to reduce its dependency on Samsung parts going forward, Apple has recently encouraged OLED production by rival suppliers like Sharp and Japan Display, while also pursuing alternative sources of NAND flash, most recently by agreeing with Bain Capital and others to acquire Toshiba's chip plant in a deal reportedly worth $17.7 billion.