iPhone X Production Supposedly Going Much Slower Than Apple Originally Planned
Apple has instructed some of its suppliers to slow down delivery of iPhone X components, according to Taiwanese website DigiTimes.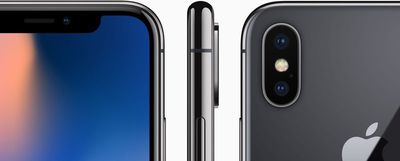 The report, citing unnamed sources from within Apple's supply chain, claims the suppliers are now shipping only about 40 percent of the components originally planned for the initial production of the iPhone X.
Apple is allegedly waiting to see how many iPhone X pre-orders it receives, and monitoring how well the already-released iPhone 8 and iPhone 8 Plus sell, before fully ramping up production overseas.
However, the report mentions some suppliers still need to step up production to meet the 40 percent requirement due to low yield rates at their production lines, which is the more likely reason for the slowdown.
Essentially, since some suppliers are manufacturing iPhone X parts more slowly than others, Apple could be capping shipments from all suppliers so it has an equal number of all components when the device launches in just under six weeks.
Whatever the case may be, this report provides yet another indication that the iPhone X is proving especially challenging to make.
Just one day before the device was unveiled, KGI Securities analyst Ming-Chi Kuo said iPhone X production totaled fewer than 10,000 units per day. In a follow-up research note, Kuo said the device is unlikely to achieve complete supply-demand equilibrium until at least the first half of next year.
All signs point towards overwhelming demand for the iPhone X. Earlier today, Kuo said pre-orders may exceed 40-50 million units. Lower adoption of the iPhone 8 and iPhone 8 Plus, and shorter lines at Apple retail stores, also suggest that many customers may be waiting for the iPhone X, but it remains to be seen.
iPhone X pre-orders begin Friday, October 27, followed by in-store availability in limited quantities starting Friday, November 3.