Turnout for iPhone 8 Launch in Australia 'Bleak' as Customers Hold Out for Upcoming iPhone X
Apple's iPhone 8 and iPhone 8 Plus are already available for purchase in countries like New Zealand, Australia, Japan, and China, and in Sydney, one of the first cities where the two devices became available, lines were short and there was little demand for the new smartphones.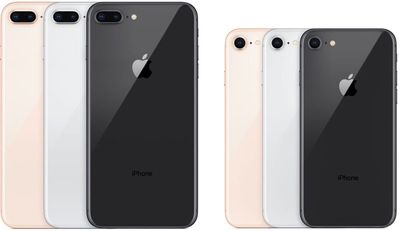 The iPhone 8 launch in Sydney saw "a bleak turnout," reports Reuters, with fewer than 30 people lining up outside of the Sydney Apple Store on George Street. In past years, hundreds of people have lined up for new iPhones on release day.
Apple customers on Twitter have also noted shorter lines in other locations.
This is the extent of the line up for the new iPhone in Brisbane. Just a dozen deep. Clearly not as much excitement as in previous years. pic.twitter.com/iJGg6S3k3Z — S Marshall-McCormack (@ShannonMM9) September 21, 2017
The perceived lack of demand for the iPhone 8 and
mixed reviews
about the device caused Apple stock to fall as low as $152.75 on Thursday. Hints of demand issues first popped up last Friday, when iPhone 8 pre-orders kicked off.
Ahead of a standard launch, pre-order supplies of new iPhones often sell out online, but that was not the case with the iPhone 8 and the iPhone 8 Plus. Hours after the two devices became available for sale, there was still plenty of stock, with September 22 delivery dates available either online or with in-store pickup.
Many customers appear to be waiting for the higher-cost iPhone X, Apple's new flagship device that will become available for pre-order on October 27. Priced starting at $999, the device features an edge-to-edge OLED display, upgraded cameras, and a new facial recognition system.
Supplies of the iPhone X are rumored to be extremely constrained, and it's been suggested that Apple will not be able to supply adequate amounts of the devices to meet demand until well into 2018.