Apple Suggests Apple TV 4K Will Gain Dolby Atmos Support in Future tvOS Update
Apple TV 4K reviews are out, and one interesting tidbit is that the streaming media player could gain support for Dolby Atmos surround sound technology in the future by way of a tvOS software update.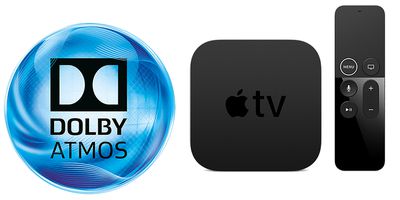 "Apple told me that the lack of Atmos isn't a hardware limitation, and that support is on the roadmap," wrote The Verge's Nilay Patel.
Dolby Atmos was developed to give sound from movies and TV shows a more three-dimensional effect. Rather than being constrained to channels, sounds can be precisely placed and moved in three-dimensional space.
Patel explains:
Atmos and its competitor DTS:X are the next generation of surround sound formats, which the industry calls "object-based surround." Unlike traditional surround, which sends specific tracks of audio to specific speakers, Atmos allows audio engineers to place sound "objects" in 3D space, and your receiver or soundbar figures out how to recreate it.
Both the Xbox One S and Roku support Dolby Atmos. On the content side, Netflix has been rolling out support since July. Several theaters now play movies with Dolby Atmos sound, and many older titles have been remastered.