Promise Technology's recently released Apollo Cloud 2 Duo storage device is able to interface with the iOS 11 Files app thanks to a new update that was introduced to the accompanying Apollo Cloud iOS app today.
The Apollo Cloud 2 Duo is a personal cloud storage solution designed to give families and small businesses the cloud's ease of use with the security of local storage. The network-attached storage device offers 8TB of storage space and is accessed through a home Wi-Fi setup.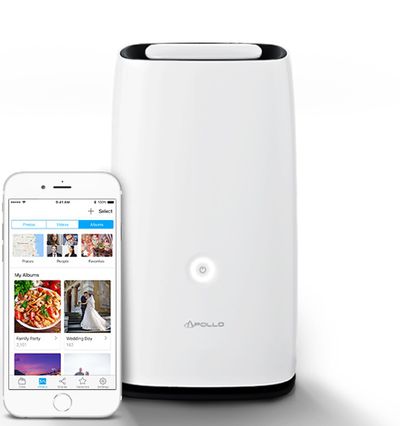 Mac and iOS apps allow users to interface with the Apollo Cloud 2 Duo from Macs and iOS devices, and when used with an iPhone or iPad, files stored on the Apollo Cloud 2 Duo can be easily transferred to and from the new Files app available in iOS 11. On an iPad, Drag and Drop is also supported, so managing files from an iOS device is easier than ever.
Other Apollo Cloud 2 Duo features include a quick camera roll backup tool to save your photos from iOS devices, built-in albums with facial recognition for organizing those photos, Time Machine support for Mac backups, and selective sync, for syncing specific folders on your Mac right to the Apollo.
Because the Apollo Cloud 2 Duo connects to a home Wi-Fi network, there are no monthly storage fees.
Along with today's app update, the Apollo Cloud 2 Duo also became available for purchase in Apple retail stores. The Apollo Cloud 2 Duo is available for $449 from Apple or directly from Promise Technology.