Hollywood Pushing for iTunes to Rent Major Films Just Weeks After They Debut in Theaters
Despite the objections of some cinema chains, the largest Hollywood studios are considering pushing ahead with a plan to offer digital rentals of films just weeks after they appear in theaters, according to Bloomberg.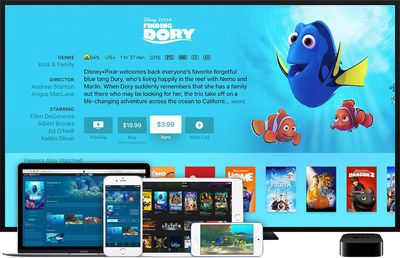 The report, citing people familiar with the matter, claims Universal Pictures and Warner Bros. remain in talks with potential distributors such as Apple and Comcast on ways to push ahead with the project even without theater chains.
A deal with Apple, which reportedly could happen as soon as early next year, means iTunes could supposedly offer major films as early as 17 days after their theatrical debut for about $50, or four to six weeks from release for $30.
That timeframe would be significantly shorter than the current average of three months between a major film's theatrical release and availability in DVD and digital formats, but it would also cost viewers more than an $8 to $15 movie ticket.
The revenue from the premium video on demand, or PVOD, product would help offset a continuing decline in DVD sales, which were down 10 percent in the first half of 2017, according to research firm The Digital Entertainment Group.
Disney, which plans to remove its movies from Netflix and launch its own streaming service by 2019, reportedly isn't interested in the PVOD talks.
Bloomberg first reported on the discussions in December, when it claimed 21st Century Fox, Universal Pictures, and Warner Bros. were all seeking deals with Apple to create a $25 to $50 premium movie download product.