Apple Announces 'Apple TV 4K' With 4K and HDR Video Powered by Faster A10X Chip
Apple today at Steve Jobs Theater announced a fifth-generation Apple TV with support for both 4K and High Dynamic Range (HDR) video.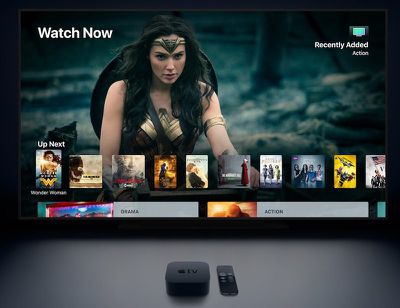 The new Apple TV 4K supports HDR in both the HDR10 and Dolby Vision standards.
Apple TV 4K is powered by an Apple A10X chip, which delivers up to two times the CPU performance and up to four times the GPU performance compared to the previous-generation Apple TV.
Apple services chief Eddy Cue said the price of 4K HDR movies on iTunes will be the same price as HD movies, and users will get automatic upgrades of HD titles in their existing iTunes library to 4K HDR versions when they become available for no additional charge.
4K content will also be available from popular services such as Netflix and Amazon Prime Video on the new Apple TV coming soon.
Apple TV 4K is available with 32GB or 64GB of storage for $179 and $199 respectively. It can be ordered starting September 15, with in-store availability starting September 22.
With support for AirPlay 2, coming later this year, Apple TV can control multiple AirPlay 2-compatible speakers as well as your home theater speakers to create the ultimate home music experience.
The fourth-generation Apple TV did not receive a price cut and remains available for $149.